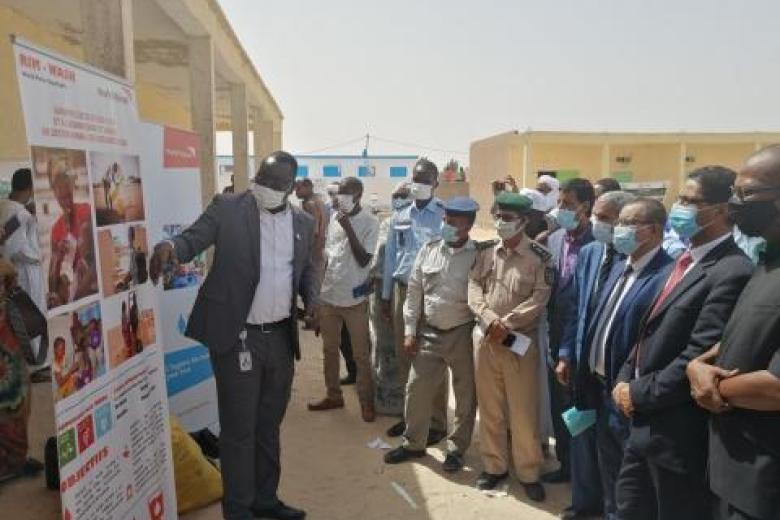 Celebrating Global Handwashing Day 2020 in Mauritania
Thursday, October 22, 2020
Global Hand-washing Day celebrations in Mauritania took place on October 15 2020, with this year's theme being "hand hygiene for all." A ceremony was held at the Abou Houreira Basic School in Dar Naim in the presence of the School Health Advisor, the Deputy Director of Public Hygiene, the Mayor of Dar Naim and students' parents.
The objective of year's Global Handwashing Day celebrations, organised by the Ministry of National Education, Vocational Training and Reform in collaboration with our partner UNICEF, was to promote hygiene as an effective and affordable way to prevent the spread of diseases.
In his speech, the Counsellor in charge of school health recalled that the Ministry, in partnership with its various partners, is implementing a school health policy to sensitise the youngest children on the need to avoid diseases by washing their hands with soap whenever necessary. He added that health and school success are closely linked: "A healthy school child is more assiduous and focused at school. »
A visit of the stands by the authorities present allowed our Senior WASH Manager Marcelin Ndiaye to present to the different partners, our RIM WASH programme, our priorities, and our targeted actions against the COVID-19 pandemic across our intervention areas in Mauritania.
Access to drinking water and sanitation are inalienable human rights because they guarantee human survival and dignity. Mauritania is committed to guaranteeing universal access to drinking water and sanitation by 2030. To support these efforts of the State, World Vision includes WASH in its priorities and provides a large package of interventions so that every child living in the areas covered by its programmes in Mauritania can benefit from sustainable access to drinking water, adequate sanitation and can have a behaviour conducive to good hygiene conditions.