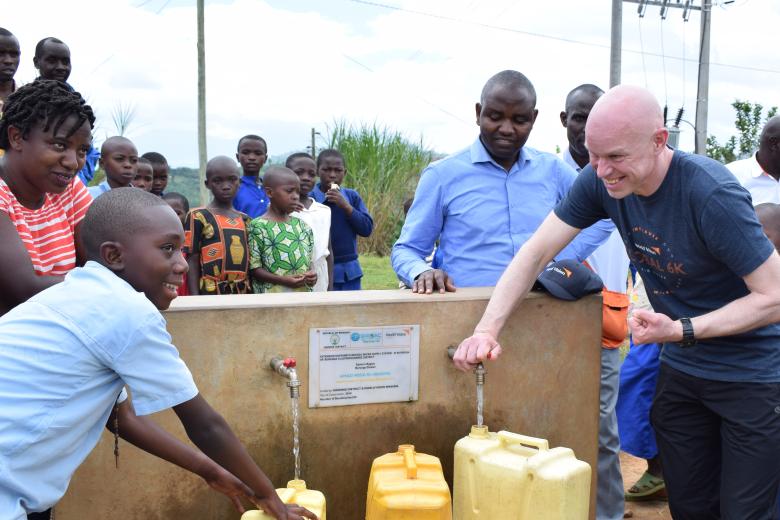 World Vision International President, Andrew Morley, visits Rwanda
Thursday, February 20, 2020
World Vision International President, Andrew Morley, recently came to Rwanda on a four-day visit. During his visit, Andrew Morley met with Rwanda's Prime Minister; Edouard Ngirente. They held discussions about strengthening the existing partnership between Rwanda and World Vision as well as exploring more potential areas of cooperation.
Morley also joined World Vision staff in Rwanda staff for a time of devotion where he expressed his gratitude to them and appreciated them for the change they are making in the lives of children and the communities in Rwanda. He interacted with staff who were also given time to ask any questions they had.
While addressing staff, Andrew called upon them to love those in the darkest places.
What strikes me about our work is that we aren't called to serve the least of these, we aren't called to serve the most vulnerable--those in the darkest places. We are actually called to love those in the darkest places and to love those most in need. That is different because we have to be there and we have to be there long term and that is why our model of being present in the communities matters.
Andrew Morley urged staff to strive for excellence, stressing that excellence honors God. "Aim for excellence not because of self-pride, but because you're doing things to the best of our ability in the work that God has called us to do, we honor God. Through honoring God, we are blessed. Challenge each other to excellence and do not allow each other to be second-best, strive for excellence," he said.
After visiting with staff in Kigali, Rwanda's capital, he visited one of the area programmes to witness some of the work transforming lives in communities. Among other interventions, he saw a maize cooperative and savings groups where he had the opportunity to participate in the harvesting of maize and spend time listening to the members of the savings group. 
The maize producer group that Andrew visited now has access to markets for their produce, which is bought by Africa Improved Foods (AIF) Company in partnership with DSM. AIF and World Vision Rwanda joined efforts to implement Cob Model (selling their products while still on the cop) to help farmers be able to produce and sell quality maize that is aflatoxin-free and get paid fair market value for what they produce.
Morley also appreciated members of the cooperative and savings group for their efforts and hard work.
"This is really moving to see your work. DSM is one of our largest partners and I am glad to finally see the cob model I keep hearing about from them. I like that the maize flour is also used as nutritious igikoma 'porridge' for the benefit of children," Andrew said.
Andrew, alongside his wife Vanessa, also visited the Kanyansyo-Muhaza pipeline that serves over 4,780 people in Gakenke district. This pipeline which was constructed by World Vision in collaboration with Gakenke district and Water & Sanitation Corporation is also connected to a school and health post, making life easier for children like Lambert, 13. Lambert and his family benefit from the water pipeline. He shared with Andrew and Vanessa the challenges they faced before World Vision brought clean water closer to their household and how their lives were transformed since.  
Andrew and Vanessa also visited Kigali Genocide Memorial and laid a wreath to pay homage to the victims of the 1994 Genocide against the Tutsi.