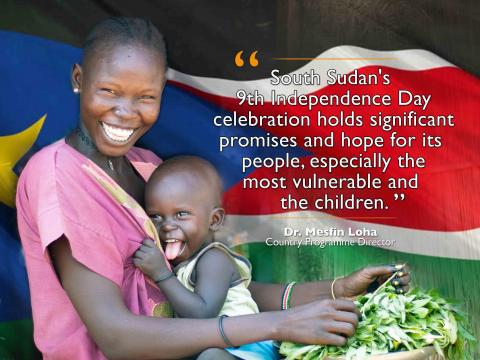 South Sudan's 9th Independence Day: Facing COVID-19 with courage and rising to the new normal
Tuesday, July 7, 2020
South Sudan's 9th Independence Day celebration holds significant promises and hopes for its people, especially the most vulnerable. Today's commemoration should reaffirm these and the pledge to bring sustained peace, prosperity, and protection of the children, the future generation.
After becoming a new nation on 9 July 2011, South Sudan went through tremendous obstacles. The expectations of what the newfound freedom entailed and the glimmers of hope that emerged during the first five years as a republic were met with a lot of challenges but the South Sudanese people's courage and resilience stood out and kept the momentum of that hope going.
After the declaration, and despite the promising progress in nation-building and setting up governance structures, the country descended into widespread conflict in December 2013. From that fateful time to February 2020, South Sudan overcame the struggle and finally welcomed the Revitalized Transitional Government of National Unity (RTGoNU).
The emerging gains of the peace agreement were shortly followed by the COVID-19 pandemic. This year's commemoration of South Sudan's independence anniversary finds it grappling with a convergence of existing vulnerabilities and seasonal shocks with deepening hunger, loss of livelihoods, impending locust swarm, and flooding.
The situation calls for multi-sectoral, comprehensive responses to be scaled up as a matter of urgency to prevent a worst-case scenario. The glaring needs and gaps in the health and other social service sectors require concerted efforts now and in years to come to propel South Sudan on the path to progress and prosperity.
The government-led response to the pandemic and the support provided by humanitarian and development partners are taking shape and making reasonable efforts to mitigate the impact of COVID-19.
In the midst of this pandemic and other humanitarian responses, however, we must keep our sight focused on the agenda and actions on the Humanitarian Development and Peace nexus as the only viable approach to ultimately lead to long-term development with peaceful co-existence.
South Sudan children's prayer for peace
Blog by Dr. Mesfin Loha, Country Programme Director