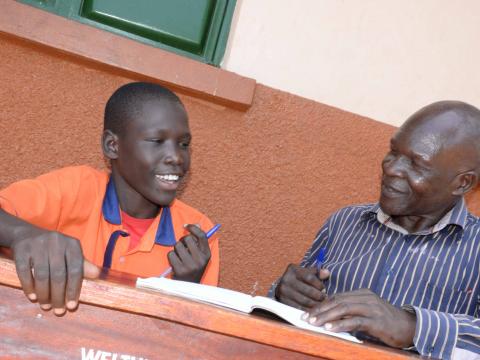 Above All, Love
Wednesday, July 17, 2019
By Joanitah Asiimire, Communications Officer
For Solomon, 13, love is peace, unity and prosperity. He says that where love is, everything good comes in automatically.
"World Vision has loved me and my sister so much," he adds.
With the conflict and killings he experienced in South Sudan and as an unaccompanied minor at Invepi refugee settlement, Solomon did not understand what love was.
"When my sister and I arrived in the settlement, they put us under foster care but unfortunately the woman developed a bad act towards us, she would abuse us every day, refuse us from going to school, use our cash assistance and tell us so many things that I don't even want to think about," recalls a vividly sad Solomon.
They reached a point where they could not take it any longer and so they decided to speak up.
"We decided to tell Omara Lawrence from World Vision when he came to monitor and check on us. He changed us and gave us another foster parent who loves us like our mother," says Solomon.
To Solomon, this is Love. "World Vision has really done a lot in our lives, they rescued us from our former foster parent and made sure we are happy now; they built us a house with two rooms where we live comfortably; they give us cash grants from where we are able to buy basic needs and they continue to empower us and encourage us to be good people," says Solomon.
Now, Solomon is a primary seven-candidate at Torit primary school, and dreams of becoming a doctor when he grows up. He also wants to become a good person when he goes back to South Sudan.
I just hope that World Vision will not give up on us, from the time we came from South Sudan they have improved our lives and given us joy. I really appreciate them.