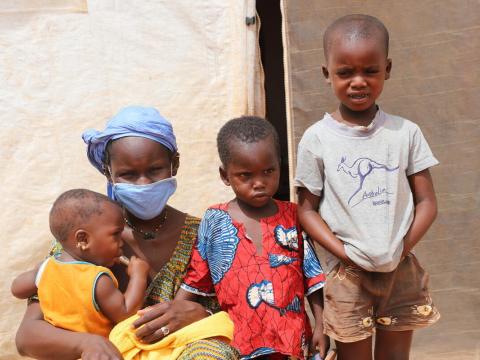 What the Central Sahel High-Level Humanitarian Event means for children
Friday, October 23, 2020
By Patrick Daniere and Yves Habumugisha
Patrick and Yves reflect on recent UN commitments and what it means for the close to 5 million children in the Central Sahel needing life-saving humanitarian assistance.
On 20 October 2020, global leaders and decision-makers met in a ministerial round table on the Central Sahel. At the event, governments, donors and UN representatives were unanimous in recognising that the crisis is complex and one of the most rapidly deteriorating humanitarian situations in the world.
At the highest level, UN Secretary-General Antonio Guterres urged "member states to act and act now to find long term solutions for the young generation in the region," echoing the requests for urgent action expressed by humanitarian partners including World Vision.
The intersection of conflict, counterterrorism, climate change, displacement, hunger and barriers to delivering basic services has led to a dramatic increase in the number of people in need of life-saving assistance, including 5 million girls and boys.
The global pandemic has only compounded the situation. Burkina Faso Minister of Foreign Affairs Mr. Alpha Barry stated that "COVID-19 has caused multiple crises in Burkina Faso with wide social, economic and humanitarian consequences for the local population." One such impact has been a burgeoning hunger crisis, with 5.5 million people in the Central Sahel facing food shortages – 3.3 million in Burkina Faso alone. Of greatest concern are the 11,000 people in Burkina Faso already facing famine levels of food insecurity.
Children are among the hardest hit. Niger Minister Mrs. Aichatou Boulama Kane noted that "Niger has 3.8 million children's learning affected due to the ongoing crisis," rates worsened by the implications of COVID-19. Attacks on education have also escalated dramatically in Niger, Mali and Burkina Faso, with 3,500 schools closed due to direct attacks and insecurity.
UNICEF's Executive Director Henrietta Fore highlighted impacts on children's health and nutrition. Alarmingly, close to 1 million children are affected by severe acute malnutrition. The OHCHR raised concerns on the protection of children's rights. In Mali in 2019, 745 grave violations of children's rights were recorded by the UN, the highest number since 2017. This included an unprecedented number of child casualties. Child recruitment and use by armed groups doubled from 2018 to 2019. Already in the first three months of 2020, 228 incidents of grave violations have been preliminarily recorded by the UN.
Never has there been a more urgent and pressing need to prioritise the needs and rights of children in the Central Sahel. This high-level humanitarian event on the Sahel could not have come at a more critical time and as Country Directors of World Vision's humanitarian and development assistance operations in Mali and Niger, we were pleased to have the opportunity to represent the perspective from the ground at this event.
As president of the NGO coordinating body OIREN in Niger, during the conference we stressed the need to strengthen access to basic services in crisis-affected areas, putting the protection of civilians, justice and accountability at the center of emergency response. As World Vision Niger, we consider the Sahel crisis to be a protection crisis that needs immediate as well as long term sustainable solutions. We are committed to a Nexus approach that brings coherence to humanitarian, development and peace objectives in a way that promotes governance and accountability.
World Vision Mali similarly sees the complex crisis as a protection crisis, especially for children. We have been able to respond to some of the needs of children and families in Mopti, Gao, Tombouctou and other affected areas, but escalating levels of violence and food insecurity are alarming. We need additional resources to protect children from violence, exploitation and abuse. Funding should be aligned with programs to assist the Malian government in restoring peace and reviving the economy, to improve governance, protection, food security, livelihood recovery and provision of essential services to children in communities affected by conflicts.
Our main takeaway from this high-level humanitarian event is that there is now a shared understanding that a Nexus approach is needed for greater efficiency and impact, and that more work needs to be done to improve the operational environment for humanitarians – improving access, ending attacks on humanitarian personnel and strengthening civilian-military coordination.
We were both pleased to see the significant political and financial commitments to the Sahel at the highest levels. Twenty-four donors shared their commitments for 2020 totaling $925M and made new pledges totaling $725M for 2021 and beyond. The United States remains the largest single donor to the Central Sahel, committing $152M in new, additional funds. The Government of Germany, co-host of this event, also made a substantial pledge of €100M ($118M).
While this substantial figure, all totaled at $1.7Bn, is a good start, there is more work to be done. Commitments for 2020 meet 66 percent of needs for the year as it comes to a close – still leaving a deficit. Pledges for 2021 represent only 48 percent of the estimated 1.5Bn humanitarian requirement.
This is a strong start to meet the life-saving needs of children and their families in the Central Sahel, but with less pledged for 2021 compared to 2020 despite rapidly increasing needs, and funding requirements not yet met, the call to action remains urgent. Pledges must materialise into commitments, commitments must meet humanitarian requirements, and resources must reach humanitarian and development actors on the ground with the capacity to stay and deliver assistance to communities.
The time to act is now. As global leaders and national decision-makers move on from this high-level humanitarian event, World Vision calls for this incredible momentum to translate into urgent actions to address the humanitarian needs and safeguard the rights of the children of the Sahel. 
World Vision has been responding to the immediate and long-term needs of children, families and communities in Mali and Niger since 1982 and 1995 respectively. To read more on World Vision's analysis and our recommendations, see our policy brief "Complex Crisis – Broken Childhood: The grave situation for children affected by conflict & fragility in the Central Sahel," October 2020.