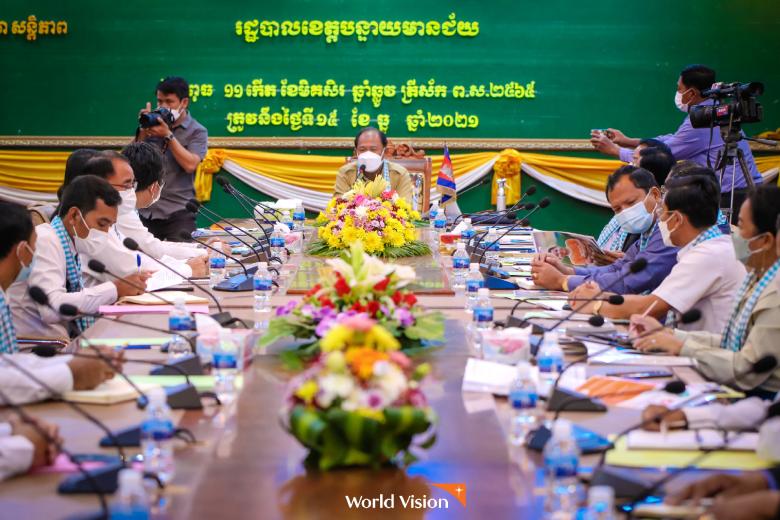 World Vision Cambodia helps 60,000 children in Banteay Meanchey
Monday, December 20, 2021
Some 60,000 children in Banteay Meanchey province have benefitted from World Vision Cambodia's projects this year to complete their basic education, child protection and participation, good health and nutrition. 
This was disclosed on Wednesday during a meeting between Banteay Meanchey Provincial governor Oum Reatry with World Vision Cambodia director Leng Vireak and his team. During the meeting, World Vision Cambodia presented its achievement of projects implemented in the province and its continued programmes and plans.
According to World Vision Cambodia, its donors and sponsors have invested nearly $3 million in Banteay Meanchey province to ensure all children complete their basic education besides enjoying good health and nutrition while their families gave support to improving their livelihood.
World Vision Cambodia director Leng Vireak told Khmer Times on Thursday that they discussed the short and long-term projects implemented so far this year in the province, achievements and the continuation of plans for next year.
He said that World Vision has contributed to the government's response to education, health, protection and participation of children, which has had a significant positive impact on children's lives, especially in the case of floods and Covid-19.
"All these achievements are due to the cooperation and full support of the provincial, district and relevant departments around the province. Of these, at least 60,000 children benefited," he added.
He said that the projects included the prevention of and response to Covid-19, children's health, nutrition and clean water, improving public services (social accountability), support for flood disaster response programmes and programmes to support the improvement of family livelihoods through animal production and other means.
"We will continue to work for the children of Cambodia," he stressed.
According to the Banteay Meanchey Provincial Administration, it will continue to fully support the renewal plan for 2022 and urged the relevant departments to continue its support and cooperation toward the successful implementation of World Vision Cambodia's activities.
--
Original Source: https://www.khmertimeskh.com/50990909/world-vision-cambodia-helps-60000-children-in-banteay-meanchey/