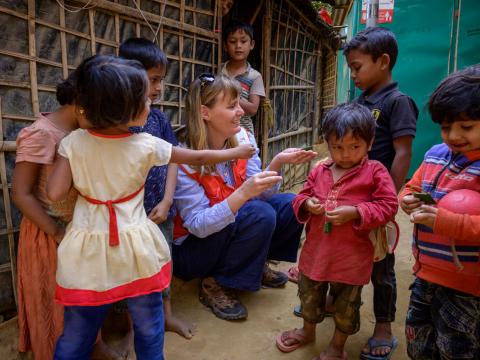 Leading from the frontlines in the Rohingya refugee response
Tuesday, August 27, 2019
"Refugee children and their families are front and centre of everything we do. Let's never forget this," says Rachel Wolff, Response Director of World Vision's humanitarian operations in Cox's Bazar, Bangladesh.
It's a message that Rachel shares daily with her team of almost 1,000 technical staff and field workers as they head out to serve in the world's largest refugee camp. Nearly 1 million Rohingya refugees have lived in this squalid, overcrowded settlement since their violent exodus from Myanmar in August 2017. More than half the population are children.
Children are especially close to Rachel's heart. Prior to joining the Response in mid-2018, she served as World Vision's global Safeguarding Director. She led the organization's work across nearly 100 countries to prevent and respond to violence affecting children and adults.
"Children in the camps are extremely vulnerable. Their lives are more stable now, but every day they face the risk of abuse, neglect and exploitation," says Rachel, 44, a mother of four children, one of whom has special needs. Rachel is passionate about ensuring that children and adolescents with disabilities are included in all aspects of World Vision's work.
A 15-year veteran in the international aid sector, Rachel served with World Vision in war-torn Somalia and supported operations remotely in Haiti following the devastating earthquake in 2010.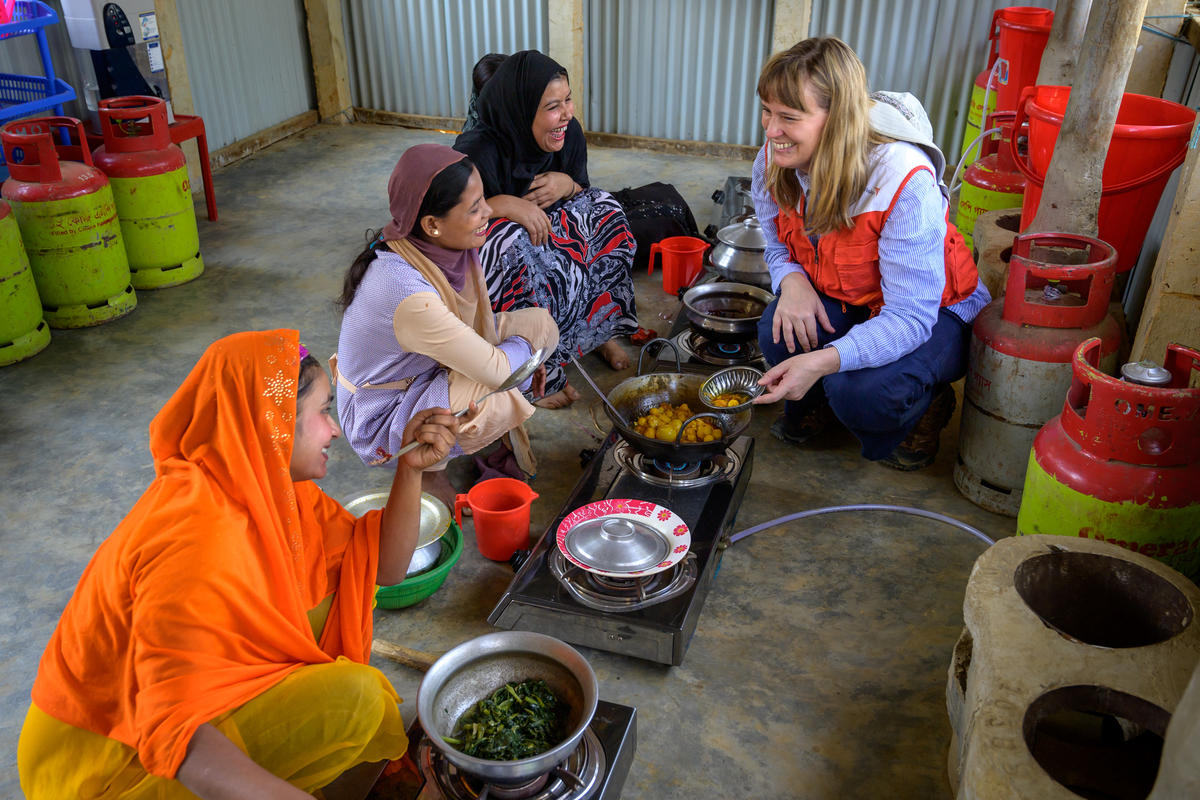 "It's the women and children who you remember long after you're back home," says Rachel, who is from the Seattle, Washington area. "When women are empowered, their whole family benefits—especially in a crisis. Every time I visit the camps, Rohingya women tell me that they don't want to be dependent on aid. They want to learn new skills so they can earn a living and feed their children better. Many are emerging as strong community leaders. As a woman leader myself, I want to do everything I can to support them."
Rachel heads one of most prominent operations among World Vision's 21 large-scale global humanitarian responses. One of just three women response directors worldwide, she oversees a USD36 million multi-sector, grant-funded programme that covers child protection, education, gender-based violence prevention, food assistance, nutrition, WASH, cash programmes and disaster-risk reduction.
A laser-focused strategist, Rachel's eye is always on the money. "I'm constantly looking for innovative ways to source more funding so we can support even more refugees and the poor in host communities," says Rachel, who joined the response one year ago. Under her direction, funding has tripled, staffing quadrupled and camp intervention areas doubled.
Beyond growing grant portfolios, Rachel's passion is growing people. "I just love helping young, talented team members to see their strengths and really develop them," she says.
In recognition of her own talent, Rachel recently received the World Vision Disaster Management Team's 2019 "People Grower" award. An MBA graduate of the University of Pennsylvania's Wharton School, she is also a recipient of the John M. Bendheim Loan Forgiveness Fund for Public Service.
Running a response operation is a 24-hour responsibility fraught with unending challenges. Rachel thrives on problem solving. Her day can range from triple checking security measures to keep her 1,000 staff members safe to advocating for refugees' rights with visiting international dignitaries.
Having her family beside her makes the job a little easier. Rachel, her husband, Chris, and their children live in Cox's Bazar, a seaside town near the refugee camps. Few expatriate humanitarian workers opt to bring their families with them on such a difficult assignment that demands long hours in often harsh conditions.
"We enjoy living in Cox's Bazar. It reminds me of the fishing village in Japan where I grew up with my missionary parents," says Rachel, who speaks Japanese fluently and is a former journalist with the Japanese daily Asahi Shimbun.
Rachel believes Christians are called to especially care for refugees—be they in Bangladesh or in our own backyards. "We know God uses the weak to confound the strong," she says. "The courageous children and parents that I meet remind me of that every day."
Written by: Karen Homer
Photographed by: Jon Warren