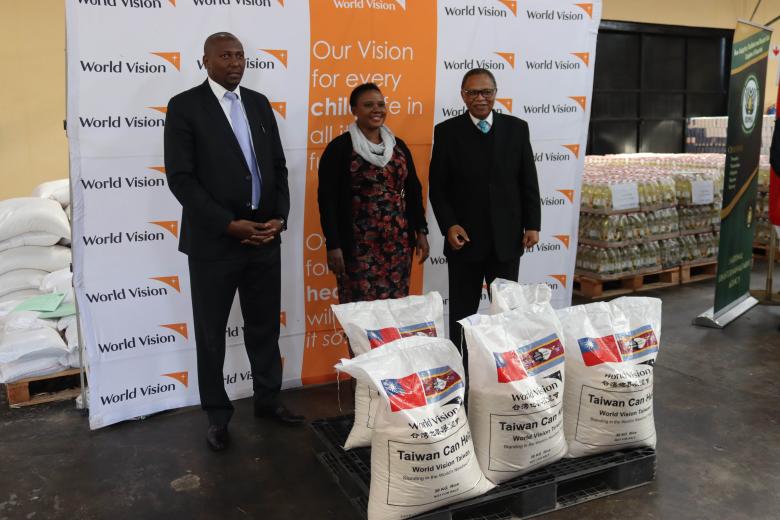 World Vision Taiwan donates 1,000 tonnes of rice to around 33,000 vulnerable EmaSwati
Monday, June 6, 2022
The outbreak of COVID-19 around the world had a lot of negative impact on the livelihoods of people and Eswatini is no exception. While many lost jobs, the situation of the vulnerable went from poor to worse as it went to the extent of running short of food for general meals. In the process, children were amongst the most affected.
In line with the mandate of being humanitarian. World Vision Taiwan, through the World Vision Eswatini office, has donated 1,000 metric tonnes of rice worth US$1,336,000 which is equivalent to E20 574 400 to Eswatini to contribute to the COVID-19 relief.
This donation adds to a 3,000 metric tonnes of rice donated by World Vision Taiwan, through the Eswatini office as relief from the effects of the June 2021 political unrest in Eswatini. This donation will benefit a total of over 33,300 vulnerable EmaSwati across the country over a period of 3 months.
Speaking at the presentation event at the National Disaster Management Agency's (NDMA) warehouse in Matsapha yesterday (2 June 2022), the Deputy Prime Minister (DPM) of Eswatini, His Excellency Senator Themba Masuku said World Vision and the People of Taiwan have demonstrated that a friend in need is a friend indeed.
"The donation from World Vision and the People of Taiwan will go a long way to mitigate the impact of COVID-19 on food security in the country," Masuku said.
Presenting the donation was World Vision Country Programme Director for Eswatini, Tinah Mukunda, who emphasised that it is part of the values of World Vision as a humanitarian organisation to be responsive in times of need and in times of emergency. She said that the organisation is most concerned about the well-being of every child and mitigating factors that may deprive a child of the opportunity of reaching the full potential in life. Mukunda highlighted with concern that a greater fraction of the population suffering the negative effects of COVID-19 are women and children.
"What we have come to realise as an organisation is that in times of crisis, over 70% of the population that is affected in times of crisis are women and children, and as World Vision, we are a child focused organisation which makes us present in all these emergencies," she said.