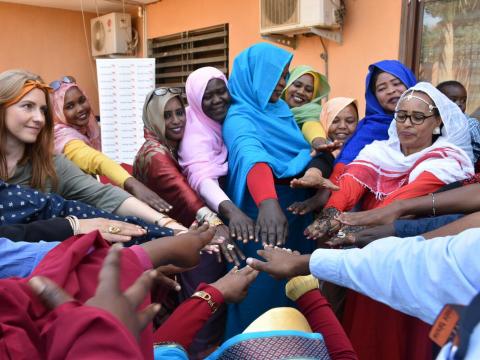 Talking saves lives
Monday, March 9, 2020
By Lisa O'Shea, Senior Director of Social Mobilisation, World Vision International
Cover photo: Female staff of World Vision Sudan in the Khartoum office join hands in solidarity and affirming that women all over the world need each other, and we are better when we lift each other up. Gamal Ghallab/2020
'Our lives begin to end the day we become silent about things that matter'. Martin Luther King was not afraid to start a conversation. Like the many girls and women around the world who are speaking out against gender inequality. Who are tackling the challenges that mount up for girls.
Growing up, it took me years to notice that society treated girls differently. That girls are expected to help out with household tasks more than boys. It wasn't until I had a daughter that I noticed how girls' voices were missing, that most lead characters in books and TV are boys. That girls are being left out from even these conversations.
Now, working with World Vision, I see that girls everywhere are facing daily challenges just because they are female.
In Nepal, I met girls who everyday ate less food than their brothers. Around the world, being a girl means unfair treatment in dozens of ways, both large and small. It means being harassed when collecting water. Being told to behave differently or to aspire to less. Not having a safe toilet to use. Risking marriage at an early age. Missing school because they lack sanitary supplies.
But around the world, I see powerful change-makers – girls and women who are not staying silent about the things that matter. They are identifying the things that risk holding them back as girls. They are speaking out to challenge this status quo. And saying: "not on our watch".
I see signs of change too in everyday public discourse. Take the high-profile #MeToo movement which widened the conversation about sexual harassment of women and girls. It started with conversation but it's created space for both conversations and action on gender inequality. People are not just talking, but mobilising and advocating. Very different communities around the world are uniting to change the conversation.
Through my work on social mobilisation, I'm privileged to see many examples of inspirational girls leading these conversations. On child marriage, girls like Dola in Bangladesh or Sarifina in Ghana are mobilising their communities to end this practice, tackling behaviour and raising the difficult conversations with their peers and with adults.
These empowered girls and young women are not alone. The teenager Amika George leads successful campaigning work to end period poverty in the UK and around the world. Changing lives. Fearless women in India are reclaiming the streets through Meet to Sleep. By coming together, people are showing that their actions can lead to change.  
This June, millions will be adding their voices to tackle child marriage and sexual violence. Through World Vision's global advocacy campaign, It takes a world to end violence against children, more than 70 countries are shining a spotlight on child marriage and other forms of violence against children. Communities and individuals will be saying 'Not on our watch'. They will be taking personal action and committing to change their own behaviour. They will be telling decision-makers that it's time to listen.
You can join them. Add your voice to the conversation and make sure your leaders listen.
Our lives begin to end the day we become silent about things that matter.