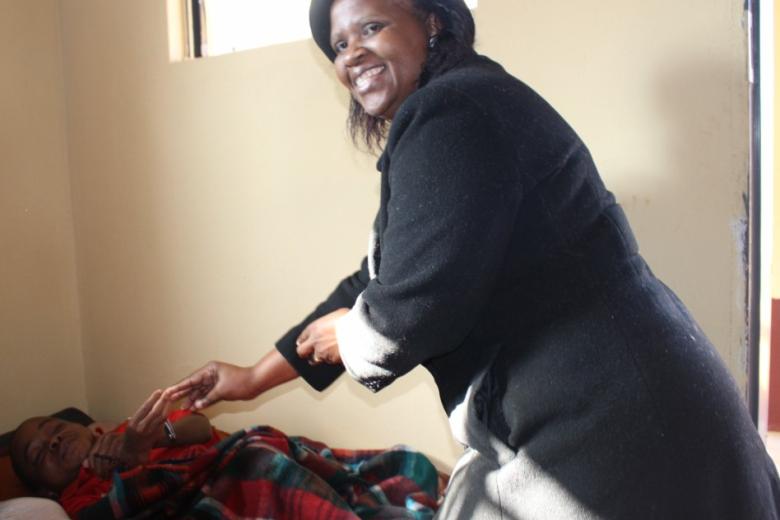 Physically-challenged man gets a house
Friday, July 10, 2015
World Vision has handed over a house worth over E24 000 (US$2 400) to Ngisana Maseko, who is disabled of Maphalaleni Inkhundla. Maseko is 26 years old and he is bedridden. His lower limbs have become small like that of a child. He was born normal and he went to school until he started to get sick in Grade 6. He developed difficulty in walking and he was forced to drop out of school. He was taken to different hospitals but he never got better and eventually was bedridden.
The Project Management Committee (PMC) then identified Ngisana as one of the vulnerable people to benefit from this project. Then World Vision's office at Maphalaleni made an assessment and the two-roomed house was constructed. The chairperson of the PMC Timothy Dlamini said it was evident enough that World Vision was a Christian Organisation because it was not discriminating even those who were disabled.
Receiving the house keys from Cluster Manager Faith Ngwenya, Ngisana was grateful and happy. "I wasn't expecting this to happen to me. May God bless you as you continue to help others," he said.
Cluster Manager Faith Ngwenya said congratulated Ngisana and told him that that this was his house. She also told the family to respect him and desist from accommodating other family members against his wish. Ngwenya further extended her appreciation to the community for helping during the construction of the house.
Advocacy and Justice for Children Sakhile Malaza reminded the family and the community members that those who were disabled should be considered as part of the community.
She further stated that his voice should be considered when doing community development issues. Malaza highlighted that despite what has been done some families are still hiding those amongst them who are living with disabilities