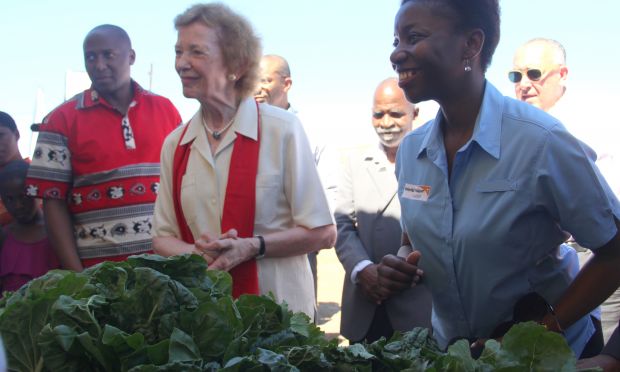 Mary Robinson, the United Nations Special Envoy on El Niño visited a drought-affected community in Swaziland to meet with the families and understand their challenges and priorities.
The Special Envoy together with World Vision, UN and local government representatives spent time in Ndzangu community in Lubombo Region of Swaziland. About 4410 people or 63 households are benefiting the water project in Ndzangu community.
"I know how difficult it has been with this terrible drought. If families don't have water, then how can they live? The tank is here. The water is now available and it is very important. I hope the pipewater will come in this community for sustainability," said Mrs Robinson.
World Vision and the National Disaster Management Agency in Swaziland are assisting the community with water trucking and hygiene and sanitation promotion funded by the United Nations Fund for Children (UNICEF).
"Because of the drought, we're forced to get water from the dirty dam and it creates a problem in our community because many children get waterborne diseases. We're thankful for this water because it will save the lives of our children," said Neli, a mother of three, 36 years old.
Schools, health clinics, the wider community and children particularly will benefit from the project which it is hoped with reduce the incidence of disease during the drought. In response to the drought, that has affected large parts of the continent, World Vision has reached 187, 000 people, or one in three of all those affected by the drought, with assistance.
"We have to intensify our water harvesting strategies where we harvest underground water, run-off water, and rain water from the rooftop in order to supply enough water for the families. World Vision is currently mobilizing resources in order to ensure these communities have safe clean water all year round. We will be repairing boreholes and drilling more and constructing water harvesting systems in schools and communities," says Francis Dube, Country Director, World Vision Swaziland.