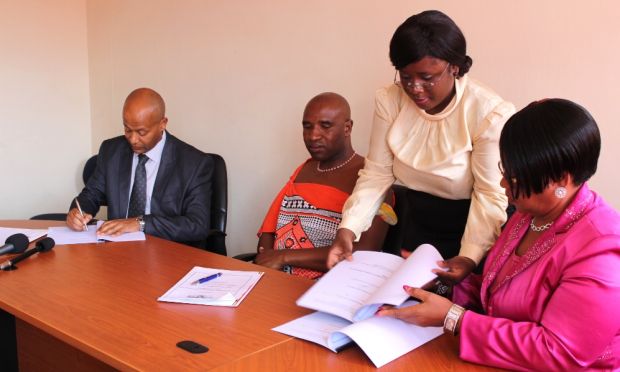 World Vision Swaziland had a historic moment this week when the organization finally managed to sign a Memorandum of Understanding (MoU) with the Ministry of Tinkhundla Administration and Development.
In his remarks during the media event, Honorable Minister Mduduzi Smalljoe Dlamini, described the signing of the MoU as a beginning of great relationship which will go above and beyond the agreement.
"I could go on the whole day about what World Vision has done in collaboration with his Majesty's Government but let me just highlight one of their good deeds, when they handed over the Nkalashane Area Programme," he said.
The Minister was referring to the recent handover at Nkalashane which saw the offices being used by the decentralization programme to bring services closer to the people of that area.
He committed that the Ministry would ensure the wellbeing of every citizen by creating, integrating, coordinating and balancing regional development.
"This Agreement could not have come at a better time when we are geared towards His Majesty's Vision 2022. With an organization like World Vision on our side, we will move in great strides towards the First World status," he concluded.
Speaking on behalf of World Vision, the Managing Director, Solomon Tesfamariam, echoed the Minister's excitement as the document is critical in the work we do in the different constituencies."We are honored and extremely humbled by the reception we have received from the Ministry of Tinkhundla over the years, and this MoU simply solidifies a well-established relationship. "
This agreement is a framework that solidifies the working relationship between the two entities, and will be useful in tracking and accountability of service delivery.
The signing took place at the Ministry's Offices in Mbabane