Farmer Managed Natural Regeneration (FMNR) eWorkshop
The FMNR eWorkshop is a 15-week facilitated online learning programme. The workshop steps participants through the key phases of FMNR using case studies, reflection on practice and group work, drawing on the experience of its participants and guided by leading FMNR experts.
To find out more about the eWorkshop learning approach, see the main Technical Academy page as well as the information on this page.
FMNR empowers communities who are suffering from the effects of degraded land and climate change. Through FMNR, they regenerate trees on their land to improved soil fertility, more crops, better animal fodder, increased firewood availability, more income and a better quality of life.
To find out more about the FMNR technical approach, visit the World Vision Australia FMNR Knowledge Hub site.
More information
Who is this course for?
Field-based staff who are working directly with communities to promote and roll-out FMNR – either in a current or future project
Existing FMNR practitioners who what to share their experiences, further extend their knowledge and connect with a global community of peers
Managers or technical advisors who want to familiarise themselves more deeply with FMNR
Practitioners not in these categories are welcome to apply and the team will assess whether the course is right for you.
What will I learn?
Journey with a global group of peers and expert facilitators to learn how to promote and support FMNR adoption in your local community. The eWorkshop will include:
Planning for FMNR roll-out in a community
Sensitisation meetings and creating spaces for the community to discuss the impact the environment has on their well-being
Understanding the physical FMNR practice and tips for teaching it
Identifying and selecting FMNR champions
Building relationships and ensuring FMNR is inclusive
Troubleshooting when FMNR isn't going well
Where to find more FMNR information
Prerequisites
Completed application form including learning contract agreement
Strong reading and writing skills in English
FMNR online orientation (available on registration)
Length and time commitment
15 weeks, including a 4-week break for field work
3-4 hours work per course week
Cost
500 USD (plus credit card processing fee)
Group rate offer !
Group rate for '4 or more' (Talk to techinical_academy@wvi.org to redeem your group)
Schedule and topics
Week 1: Introduction
Week 2: Overview
Week 3: The environment
Week 4, 5 & 6: Implementation
Weeks 7 & 8: Obstacles
Week 9: The community
Week 10-13: Field work (break)
Week 14 & 15: Workbooks
How will I learn?
Resources and quizzes
Forum discussions with peers and expert facilitators
Scenario-based problem-solving activities
Individual written assignment
Support
A team of subject-matter expert facilitators and a course manager will guide the group through the materials. You will also learn from the experiences and perspectives of other participants from around the world.
Accessibility and technology
Regular Internet access is required to participate (low bandwidth OK)
The learning platform (WVeCampus) can be accessed via a mobile app, but a computer is preferred
Deadlines and certification requirements
Deadlines:
For each weekly module you will have a set of tasks to complete, but you can choose when to log in and contribute within the set weekly timeframe.
The final individual assignment must be submitted by the given deadline.
Certification requirements:
Meaningful and timely participation in course activities throughout
Submission of a satisfactory individual assignment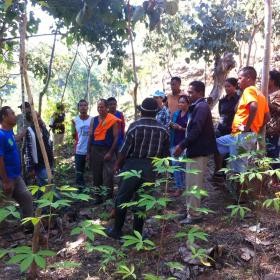 What our participants say
"The experiences from the different learners in different contexts have broadened my understanding of FMNR and how to tackle emerging issues with a wider perspective"
"It was user-friendly. It was good to use. Besides, the instructors were always online to assist."
"I loved all the content of the course. God bless the one who designed such practical based course. Keep it up!"
FMNR eWorkshop graduates (World Vision staff and partners)