Sixteen months after tropical Cyclone Pam hit, nine community kitchens were built by local builders in nine communities on Erromango Island, a forty-five minute flight from Vanuatu's capital, Port Vila.
World Vision trained local builders to build the new cyclone-resistant community kitchens as part of the Build Back Better (BBB) program.
The community kitchens were handed over to female leaders from each community. This is a big development step for women on the island.
Chairman of Simanlo Island Council, Chief Willie Netai, said, "Today women can now make money from the kitchens and it's a big improvement for all the villages on the island."
The kitchens have two smokeless stoves to reduce the risk of fire burns and respiratory illness. They also have pantries, tables, kitchen sinks, ground ovens, water tanks and their own ventilated improved pit toilets.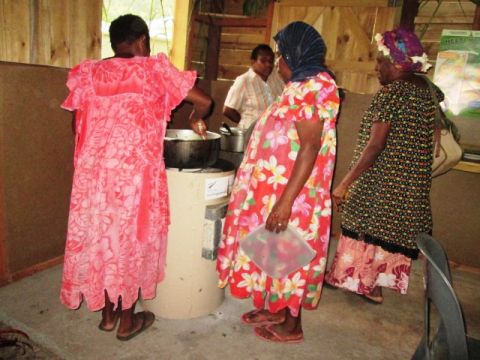 The community kitchens give women a space to come together, cook and learn from each other. The kitchens have helped women and their families recover from Cyclone Pam, which is now approaching its second anniversary.
For Rutha, 36 year-old mother of six, the community kitchen is where she earns money to support her children. "With this development in my village, when I am not cooking, I spend my time in the garden growing local crops and vegetables to support my small business", Mrs Tangar said.
"Before it was very hard for me to make an income to support my family but thanks to the BBB project, I earn around AUD$70 weekly by selling vegetables and other crops and I can also meet my children's school fees", she said.
Women's associations in the different communities are privileged to manage the kitchen operations. The kitchens enable the development of independence skills such as food production.
In addition to that, women and children were taught about the importance of hand washing by the World Vision team and also provided with safe and hygienic food storage. Women who use the community kitchens pay a small daily fee, of AUD 60 cents, that contributes to their maintenance.
A total of 600 women are benefiting from the community kitchens. The women are looking forward to building a market house from where they can sell their produce.
This program was supported by the Government of New Zealand and the generous support by private donations from New Zealand.
---
Featured image: Entrepreneurs counting their earnings.