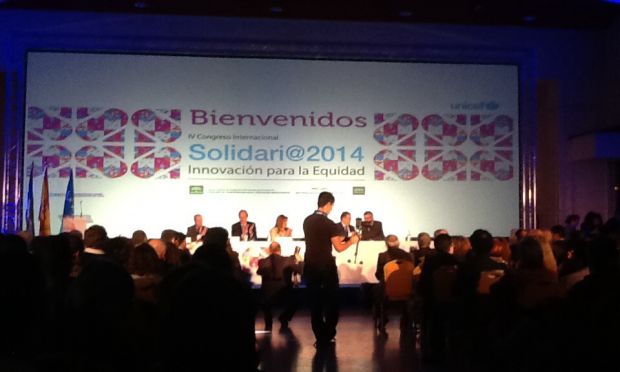 Today, I took part in the Solidari@, an international congress organised by UNICEF Spain. The congress has been organised since 2004 and periodically analyzes the situation of children globally. This forum is a space of reflection and dialogue that focuses on children, their situation, their rights and challenges.
This year's theme is "promoting innovation" in order to realise children's rights and the promises of the United Nations Convention on the Rights of the Child for every child globally.
I had the opportunity to speak about the role of innovation in helping to realise the goals and objectives of the Post 2015 agenda for children globally.
Other speakers this morning have emphasized the important role of technological innovation in helping to reach children who are hard to reach, especially those exposed to conflict, in order to allow their voices to be heard and to participate in co-creating solutions to the problems being experienced in their communities.
Speakers have also emphasized the importance of allowing the "freedom to fail" if truly innovative approaches to tackling problems are to be incubated and eventually developed.
They have spoken a lot about the importance of involving children in the design of solutions to the problems facing them and their communities- technology can facilitate this participation by children.
Speakers also noted the importance of giving back " dignity" to children in situations where they feel powerless or not heard through giving them a voice and a role in identifying and implementing solutions.
Innovation, in that sense, helps facilitate bridging the gap between children, from the most marginalized and vulnerable communities, and decision-makers at all levels.
For more information and full program of the event please read here.