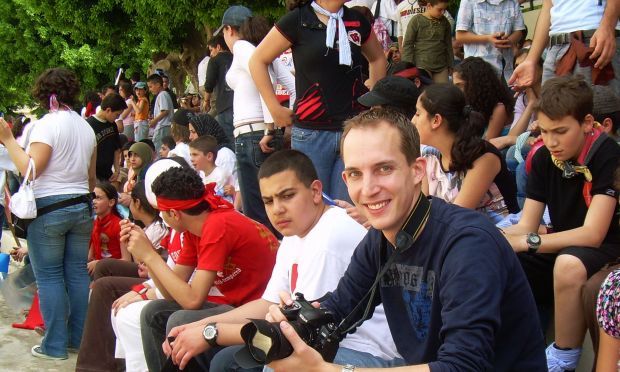 Over the past several years I have been encouraged to see the growth of meaningful child participation across our region. The improvement is in part a natural, though long in coming, outgrowth of the fact we are a child-focused organization. More significantly, perhaps, it has been an outgrowth of our commitment an increasing focus on the participation and protection of children as captured in the UN Convention on the Rights of the Child.
Our commitment to child participation centres on empowering children and youth to advocate for themselves and their peers.
There are a number of examples of World Vision's commitment to child participation in the Middle East, Balkans, Caucasus and South Asia region. The ART (Aware, Raise their voice and Take action) youth network, the regional child and youth forum, the contribution of children and youth to our regional strategy and our child participation learning hub are just a few of the examples of how empowering children and youth to advocate for themselves and their peers.
As a Communications person and a child participation supporter, I have three observations from my experience of watching children's rights being shared and embraced by children in our region.
First, I especially value the significance the convention places on a child's right to self-expression in diverse ways. Article 13, which speaks to this right, could almost be thought of as the communicator's article. As the role of communications in World Vision shifts increasingly from doing communication to enabling others to communicate, it is exciting to see what happens when children are included in that shift and are given the tools, skills and opportunities to speak for themselves. Beyond that, for children who do want to engage with their family, community and government, the convention provides an excellent framework and strong content for meaningful participation.
Watch how children transform their neighbourhood with a few pots of paint.
Second, while the purpose of the CRC is to provide the framework for defining and defending children's rights, I am excited to see how it has also has inspired children to take on the responsibility to protect one another. Almost inevitably as I have watched children learn about the full scope of their own rights, their conversation has moved naturally to a desire to extend that protection to other children that they are now able to identify as not being protected.
Finally, watching the impact that learning about rights has had on children in countries where the gaps are large has led me to believe in the value of teaching and speaking about it more explicitly even in countries where the gaps are smaller. No country can claim to have fully implemented the charter for all children in their jurisdiction, though certain countries come closer to ensuring it applies more completely for more children.
Read about how one group of children start their own Non Profit Organisation!
As with the second point, learning about the CRC specifically enables children, wherever they live, to both be more aware of children in their own context who may not be experiencing the full range of rights as outlined in the convention, and to participate in a global discussion about why these rights need to be enshrined. In doing so, the convention could be used as a tool for its own fulfillment, particularly with reference to Articles 17 and 29.