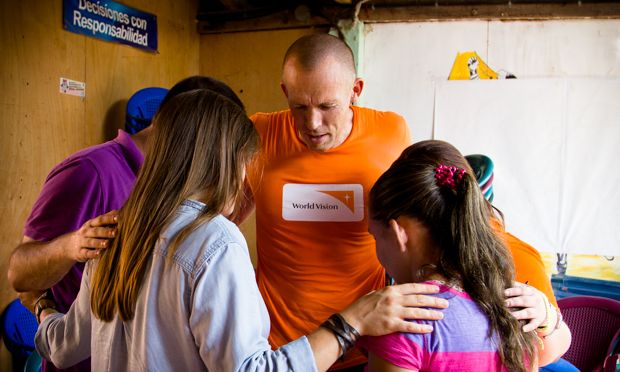 WE CANNOT DO EVERYTHING, AND THERE IS A SENSE OF LIBERATION IN REALISING THAT
As we arrived in El Salvador after 3 days of meeting with communities in Honduras, my head was swirling with all I had heard. Stories from people who each day lived in fear of the violence and poverty that had taken over their reality.
THE COMMUNITIES FROM WHICH SO MANY CHILDREN ARE FLEEING ARE DANGEROUS
As a parent with kids the same age as many who are fleeing, I was challenged by the painful choices parents were faced with trying to protect their children. Sending them to the United States involved all kinds of risks, but staying was a major risk itself where children were targeted and threatened.
Living in some of these communities comes with great risk. We met a mother whose 12-year-old was playing in the neighbourhood and, for an unknown reason, was beaten and viciously murdered. We talked with a grandmother whose 4-year old granddaughter was killed by a stray bullet from a gang fight just in front of her house. The stories of heartbreak and sorrow just kept coming.
PEOPLE THERE HAVE LIMITED OPTIONS AND CHOICES
As we chatted to two families that had recently sent their children to the United States, we realised an interesting angle we had not considered or appreciated. Both families were being threatened significantly and extorted for money they didn't have. One mother had two sons who were attending a Christian school and believes the gangs made an assumption that, based on their attendance at that particular school, their family must have money. The intimidating calls began, threatening the life of her boys if she did not pay $500 USD a month.
As a single mother this was beyond her reach, so she scraped together what she had. It still wasn't enough to meet the gang's demands. The boys lost a year's worth of schooling for safety reasons, so she moved them to another closer to home; yet even that became a challenge.
The threats kept coming, even after she changed her phone number several times, until she had an ultimatum: give them $500 in the next 24 hours or they would take her boys. The boys' father made the decision to borrow some money to pay for passage to the United States, away from the threats on their lives. At ages 10 and 12, the boys fled unaccompanied to the United States. Even so, this did not stop the threats and they continue today. The mother is told the gangs will come and destroy her house if she does not pay. She is barely able to feed herself and her toddler. She said she was glad her boys were now safe – even if she never sees them again.
In hearing this story, alongside many others, we realised that people being impacted by continuous, insidious violence are poor, and often have very little choices or options for getting protection and safety for their families. Economic opportunities are limited; therefore, any perceived sign of wealth is targeted and extorted by gangs. As a parent, you want your kids to thrive, to have opportunities and freedom to make choices about their futures. From what we experienced, the constant threat of violence rendered thriving opportunities and freedoms unachievable in the current context without significant changes.
BUT THERE ARE SIGNS OF HOPE
We met with a few youth in El Salvador involved in one of our youth clubs. One girl very articulately shared with us that it was the work with World Vision in the club that has been the difference in her not becoming involved in the gangs and violence. Though faced with constant challenges, because of the work of the World Vision youth club she has avoided many situations others have fallen into. The club showed us a report on how they were working together to improve education in a local community, making positive changes in a school where poverty has limited available opportunities for the students and teachers.
As a multitude of stories and thoughts played out in my head, we stopped by the cathedral next to the government building in San Salvador. Oscar Romero was archbishop in the 1970s–80s until speaking out against violence and corruption cost him his life. As we reflected on this story I was immediately reminded of Romero's famous prayer:
It helps, now and then, to step back and take a long view.
The kingdom is not only beyond our efforts,
it is even beyond our vision.
We accomplish in our lifetime only a tiny fraction
of the magnificent enterprise that is God's work.
Nothing we do is complete, which is a way of saying
that the kingdom always lies beyond us.
No statement says all that could be said.
No prayer fully expresses our faith.
No confession brings perfection.
No pastoral visit brings wholeness.
No program accomplishes the church's mission.
No set of goals and objectives includes everything.
This is what we are about.
We plant the seeds that one day will grow.
We water seeds already planted,
knowing that they hold future promise.
We lay foundations that will need further development.
We provide yeast that produces far beyond our capabilities.
We cannot do everything, and there is a sense of liberation
in realizing that. This enables us to do something,
and to do it very well. It may be incomplete,
but it is a beginning, a step along the way,
an opportunity for the Lord's grace to enter and do the rest.
We may never see the end results, but that is the difference
between the master builder and the worker.
We are workers, not master builders; ministers, not messiahs.
We are prophets of a future not our own.
Amen.
Amongst such difficult situations, we need to reflect and realise we can only do one part in addressing the problems. For us on this trip, this meant listening to and capturing stories of people who often are not heard, and trying to create and craft communication from this to better educate people on the situation.
I pray we can do our part well and that God's grace will help all who are affected. My prayer is for hearts to be changed in the perpetuators of violence, for more opportunities and options for the communities, and for them to be safe where they are, a right we all should have. I pray you will join and do what you can to help be that speaking out, praying daily or contributing to the work in communities impacted.