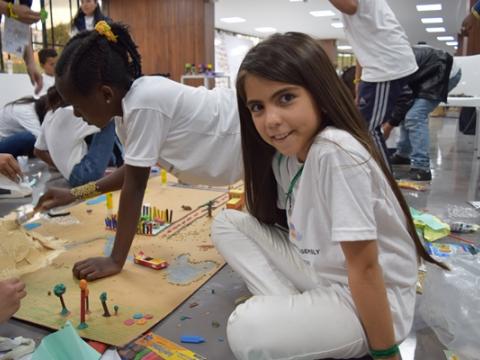 Emily is building the "City of Her Dreams"
Wednesday, October 19, 2016
By Julia Carrión, World Vision Ecuador
Emily Daniela Palma is building the "City of Her Dreams" out of modeling clay and paper. She is very happy because she is engaging in a great experience with many children today, participating at the Habitat III assembly, as she expresses here in her own words...
"I'm from the rural parish of La Unión in Manabí province, and over the last few days I have shared in lovely activities together with many children from several countries, such as El Salvador, Peru, Colombia, and Mexico, and we have gotten along super well with everyone. There are children of many races: blacks, Indians, mestizos, whites, and they are all very friendly and engage in group activities. I love it!!!"
Daniela is a 10-year-old girl sponsored by World Vision Ecuador since she was 5. She tells us that she remembers attending workshops on leadership, health and hygiene, participating in recreational activities, and she was always spoken to about her rights. Now she is a child leader in her community / country. She is the National Vice President of the Advisory Council on children and adolescents, and she represented children in her speech to the assembly for women, young people, adolescents, and children at the 2016 Habitat III Conference.
In addition to representing the children from her country, Daniela submitted her proposals, which are to be included in the UN's new urban agenda, Habitat III...
"For the future City of my dreams, I propose: more green areas in our schools and communities, taking better care of the environment, trees and rivers. Some time ago water in the river running near my house was crystal clear. We played and swam there, but now the river is very dirty, and adults are not doing anything about it." "I also propose educating parents to understand that we children have the right to study and not just to do house chores all day long." "I propose more bicycles on the streets, and less cars polluting the environment."
These are some of the proposals submitted by Daniela, an outgoing, restless, and rather expressive girl. She can spend all day talking about what she feels and thinks. She took her leave saying... "I am taking away a great friendship with the people I met here at Habitat III and I know that I will be seeing them again in the near future.
World Vision was commissioned by the UN to manage the Children's Assembly that was held in Quito, Ecuador, last Saturday. The  proposals of children will be considered in the event that ends next Thursday October 20.