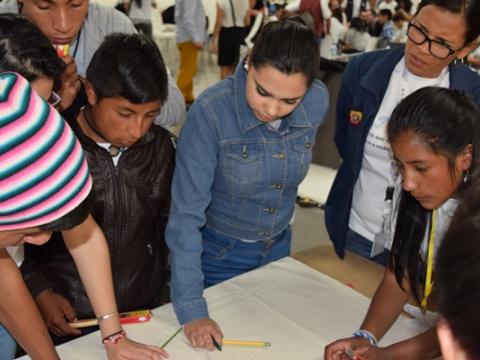 Tania is painting the image of what a "City of Dreams" would look like
Wednesday, October 19, 2016
By Julia Carrión, World Vision Ecuador
On a large canvas, Tania Hidalgo is painting the image of what a "City of Dreams" would look like. Together with other youth representatives who are now her friends and who come from all the distinct countries in Latin America, she expresses her proposals to the Habitat III Conference in Ecuador.
Tania lives in Baja California right on the US border. While she continues painting, she states some of his ideas...
"I would like cities to be safer, so children and young people can walk the streets without any fear. I would also like less migration. In my country there are many shelters for people trying to slip past the border into the US and people suffer in these places. Children and young people cannot study. They aren't happy, and even less happy are those who don't get into shelters and live in the streets on a permanent basis. I would also like all of us young people to study and have a profession so that our country can progress, and have many professional people with jobs. I would like for us young people to be treated with respect; and have the opportunity to live a decent life without so much poverty."
Tania is a young woman sponsored by World Vision Mexico from the age of eight. Now she is 18 and works as a volunteer leader in her community. She teaches several workshops to children, replicating everything she learned in the activities she engaged in throughout this entire time with technicians from World Vision. She says she is very happy to represent the youth of her country and will continue striving to improve the future of young people in Mexico.
World Vision was commissioned by the UN to manage the Children's Assembly that was held in Quito, Ecuador, last Saturday. The  proposals of children will be considered in the event that ends next Thursday October 20.