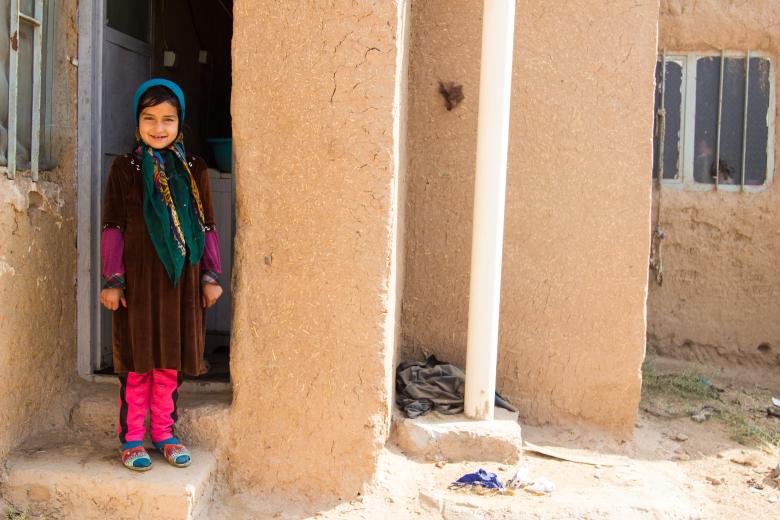 Latrines & sanitation for Afghan communities
Saturday, November 19, 2016
For the children, young girls and women of two remote villages in Herat Province going to the toilet was something of a nightmare. In one village, women had been told not to relieve themselves during the day as their only toilet was an open area with no privacy.
"We had to wait until night when all the men and young boys went home. Then we went to an open air toilet," says Bibigul, 40.
Pregnant women made a habit of eating less during the day to reduce their need to use the facilities. The decreased food and water intake was detrimental to the health of both women and their developing babies.
In the second village, families had access to a toilet, but it consisted of a dark, mud-brick room with a hole in the middle of the floor. The toilet could not be washed and was sometimes placed near wells where the villagers drew their water. Children were often afraid to use it because it was dark and full of insects and lizards.
"The hole was getting full every two months. The men had to vacate it manually using a shovel."
According to one village woman, Sanobar, a young mother of five, "the hole was getting full every two months. The men had to vacate it manually using a shovel. They dumped the faeces in an open area using a wheelbarrow."
Disposing of faeces in open areas contaminated the environment, and in summer, when strong winds started blowing, the smell spread throughout the village.
Less than half (48 per cent) of households in Afghanistan in 2010 reported the safe disposal of faeces of children under the age of three. Only 30 per cent of households in Afghanistan reported that their youngest child's faeces were deposited in an improved sanitation facility, according to the 2010 Multiple Indicator Cluster Survey (MICS).
The lack of standard toilets and the use of clothes for cleaning rather than water or toilet paper had led to serious health problems such as bacterial and parasitic infections in women and children of these and other similarly rural villages.
"I have suffered from kidney stones since I was a young girl and I am taking medicine for treatment."
"I have suffered from kidney stones since I was a young girl and I am taking medicine for treatment. I have to drink a lot of water and be able to use the toilet as often as I need to," Bigigul says.
Bibigul's daughter, Hosna, suffered from chronic diarrhoea. "If her sickness was severe we would take her to a clinic," she says, "otherwise I would use herbs for treatment. Sometimes it worked and sometimes it didn't." Bibigul recalls that Hosna was a thin, weak girl who most of the time looked pale.
As reported in a recent statement by UNICEF, lack of sanitation, particularly open defecation, contributes to the incidence of diarrhoea and to the spread of intestinal parasites, which in turn causes malnutrition. Fifty-five per cent of Afghan children under the age of five cannot develop physically or mentally as they should, due to chronic nutritional deficiency. Children in the poorest communities are more than twice as likely to be stunted as children from wealthier areas.
Improved sanitation can reduce diarrhoeal disease by more than a third, and can significantly lessen the adverse health impacts of other disorders responsible for death and disease among millions of children in countries like Afghanistan.
Based on a baseline survey that World Vision Afghanistan conducted in 2014, only 9 per cent of families have flush or improved ventilated pit latrines but the numbers are not equal across provinces. There were 19 per cent defecation facilities in Herat, 5 per cent in Badghis and only 1 per cent in Ghor provinces.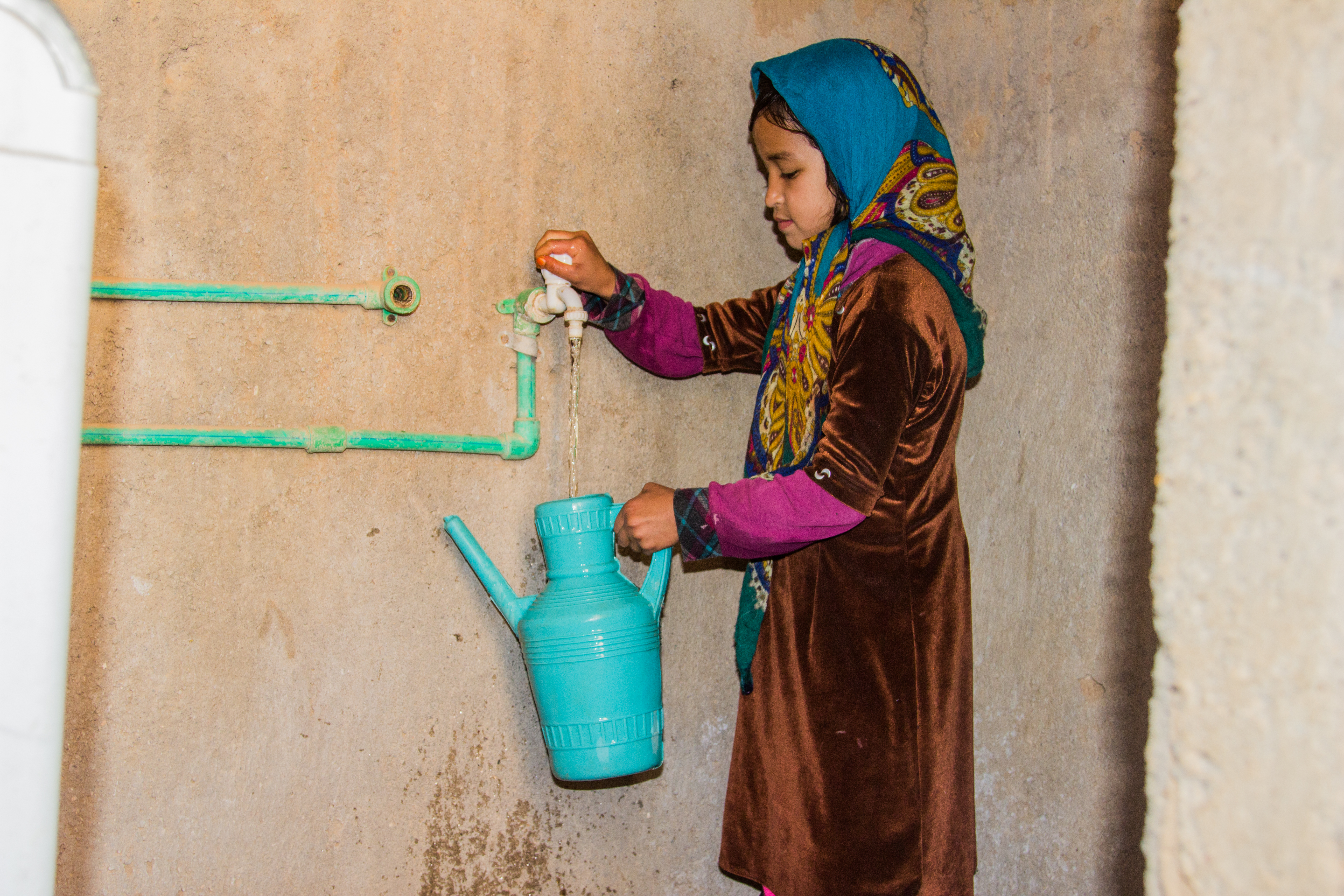 A girl while using water in a toilet established by World Vision Afghanistan (Photo by World Vision Afghanistan)
Through a fund from the Canadian Government, World Vision's team in Afghanistan has constructed1,700 model latrines in the three provinces of Herat, Ghor and Badghis in 2016.
"We conducted a three-day Water and Sanitation training for Community Health Workers (CHWs) and [organised] Family Health Action Groups (FHAGs) to increase awareness around the importance of using a standard latrine and practicing personal hygiene to help prevent water and sanitation-related diseases, as well as promoting healthy behaviour for future generations," said Dr. Alami, World Vision Afghanistan's Project Supervisor,
To date, 31,080 community members have attended awareness raising sessions and have been reached with knowedge of improved hygiene such as hand-washing, safe storage of drinking water and information regarding the causes and prevention of malnutrition.
After the groups received training they went home to home to educate other villagers. After families were informed and prepared, through the Maternal and Under 5 Nutrition and Child Health project (MUNCH), World Vision Afghanistan distributed supplies such as cement, doors, plastic pipes and other construction materials to enable families to construct a standard latrine in their houses.
Bibigul's family now has a toilet in their home, complete with a door and a window. "I clean the toilet twice a day or whenever it gets dirty," she says with a smile. "I can use the toilet whenever I want. I've placed a water bucket inside of the latrine and taught my children to [clean themselves with] either water or toilet paper."
Thanks to the personal hygiene awareness raising sessions and the standard toilet at home, Hosna's health has improved. "It [been] a couple of months since Hosna [last had] diarrhea…and I know that is because of hand washing and having a proper toilet," Bibigul says.
The success of introducing these standard toilets wasn't limited to villages where World Vision Afghanistan works. When surrounding villages saw the impact, many were motivated to implement the same. Some pooled their resources together to be able to build their own latrines. 
Many of us wouldn't bat an eyelash at having a toilet at home, but for those living in remote areas the simple presence of clean, safe facilities can promote good health and even save lives.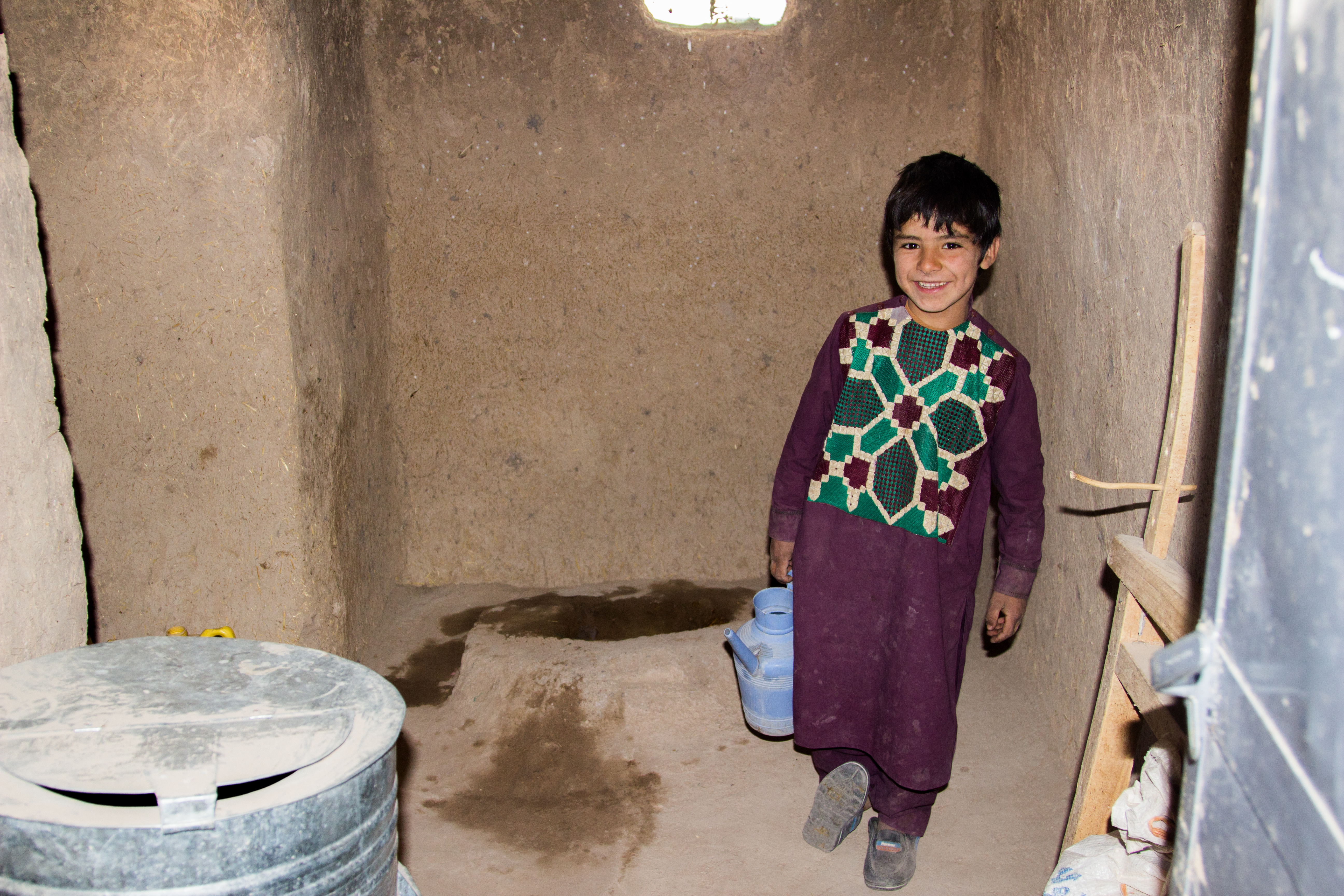 A boy in a toilet established by World Vision Afghanistan (Photo by World Vision Afghanistan)
 
About the MUNCH Project
MUNCH contributes towards improving the nutritional status and reducing the vulnerability of 1,822,315 mothers, infants and children under the age of five. The project is funded by Global Affairs Canada (GAC) in partnership with World Vision Canada and focuses on interventions that address the three underlying causes of malnutrition: household food/nutrition insecurity; poor maternal and child care practices; and poor health services and health environments. The project is currently being implemented in 21 districts in the three provinces of Ghor, Herat and Badghis in western Afghanistan.