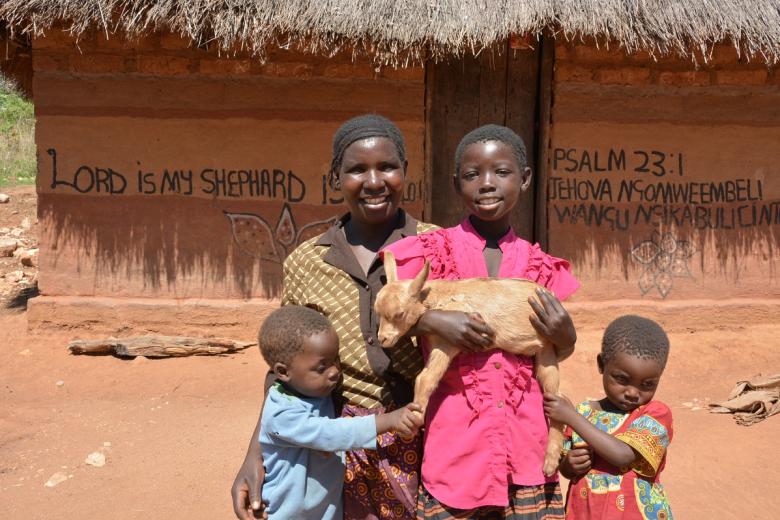 5 goats gave Christmas a new meaning for this family from Zambia
Thursday, December 15, 2016
For Mutinta, a mother of seven from the rural part of Southern Zambia, Christmas means more than just what most people think it is - receiving, eating, and drinking to enjoy. "Christmas is not just the time to remember the birth of Christ who came to die for our sins. It is also a time to reflect on the lives of those people whom Christ has used to bring change in the lives of someone like me who would have not had another opportunity to expect the next Christmas," says Mutinta.
A sponsorship gift of five goats she received in 2012 from World Vision has defined the meaning of Christmas for her family. "I am thankful to God for sponsors who have given me a reason to understand the deeper meaning of Christmas. Other than just coming to save our lives from sin, Christ speaks some people's hearts and do what they have done for me – they have saved my family from hunger in this community," says Mutinta.
"They have restored hope and dignity which I had lost then. I was passing through the most difficult time of my life when World Vision came and gave me five goats. It was unbelievable. They did not realize how timely it was for me that time. I could not attribute what World Vision did other than God has sent them," she adds.
"When one has goats, it means everything to them to survive and sustain their dignity both in good and hard times. It is shameful to be a beggar and I say so because I was one of them. Goats can give you food, clothes and other things one need. Goats can give education to your children and they give you everything you need to produce your own food and make money," she explains.
Mutinta recounts how difficult life was before. "I received goats at a time when my heart was broken," she says. Her husband had just abandoned her for another woman in another in town where he had won a big tender to do some constructions works. At the time, Mutinta was pregnant and expecting a baby in a few weeks.
She delivered twins – Frair and Festo, but their birth was the beginning of the worst she least expected. "My children could not be breastfed for about two months. My breasts were dry. I literally had nothing to give them and had no money to buy milk for them," says Mutinta.
Some community members assisted her but it was not for long to sustain the babies. "The twins got sick. I was worried they would die. They were malnourished. Festo was in the worst condition compared to Frair. I could see death in them because even when I would lift them, their body would fold as though they had no bones. They were pale and weak. Festo could not even make any movements on his own," Mutinta adds. As if this was not enough, her other children at home struggling to survive without food and income. The family had always depended on doing chores in people's homes in exchange for very little food.
"Most of the time, it was hard to eat more than one meal a day. Some days were we would go to bed on empty stomach. Being a mother of these children, it was painful to see them curl their bodies to sleep without anything in their stomach," says Mutita. "I had nowhere to look up to. I felt as if the whole world had turned against me – without a husband; children going hungry and the small twins being ill, suffering from malnutrition. I felt I was really finished," she adds.
At this lowest point in her life, World Vision brought the goats. "The goats were pregnant so they delivered that very month. It was a great blessing. I had just been out of the hospital though my children were still not well. I was advised to buy milk to feed them but I knew I cannot afford it," says Mutinta.
"But the milk from the goats became my only hope for the twins' survival. I started to feed my baby on goat's milk. I also sold two of the goats to raise money which I used to buy sugar, groundnuts, cooking oil, butter and powdered milk which I used to prepare porridge for the baby and some food for the other children," she recalls. Today, the twins' story is completely different.  Barely after three months of the feeding programme which the mother started after receiving the goats, Festo and Frair were out of danger to the surprise of many people in the community.  
"These goats saved my children's lives. Today I can smile because proudly I am able to hold my children in my arms because they are alive," Mutinta says, and adds "My children would have died without these goats. Because of the goats, I am able to produce enough food to sustain my children the whole year, while some of it I have been able to sell to meet other household needs."
 "I no longer have to depend on pieces of work to provide for my children. I am able to buy fertiliser and seeds produce my own food for consumption and sell," she says. Her 4th child  Ovitar, a World Vision sponsored child, said she has seen the power and value of World Vision's sponsorship programme. "Sponsorship has lifted me out of poverty and hunger. I do not struggle to find food and money to pay school fees for my children. The goats have changed everything", says Mutinta.
"To celebrate Christmas, I have been reflecting on this what the donors have done for me through sponsorship. Through my prayers to God, I thank the donors for changing my life. I can smile today because I have food to eat. I thank the donors and pray for them," she says. Mutinta says the first time in her life that she managed to produce 36 bags by 50Kg of maize after receiving goats because she could afford to seeds and fertiliser. She bought early maturing maize seeds, planted them and managed to produce at least 12 bags by 50Kg despite the effects of the El Nino drought.
Ovitar says her sponsor has written a letter to her before, which makes her so excited. "I was very excited to receive a letter from my sponsor. I usually show the letter to my friends. My sponsor also gave us goats. When mum sells the goats, she is able to pay school fees and buy uniforms, canvas shoes, pencils and books," says Ovitar.
Eight-year old Ovitar now can dream because she believes goats will support her education as her mother will be able to pay her school fees and buy her all the school needs. "I admire my teacher Mrs Mangende. I want to I finish school and become a teacher," Ovitar says. Ovitar and her siblings have continued to benefit from not only the sale of goats but also the nutritious goats' milk. The value of the gift of goats given to Mutinta's family through sponsorship could have been underplayed but today that gift has given Mutinta hope and a reason to thank God and donors for Christmas.