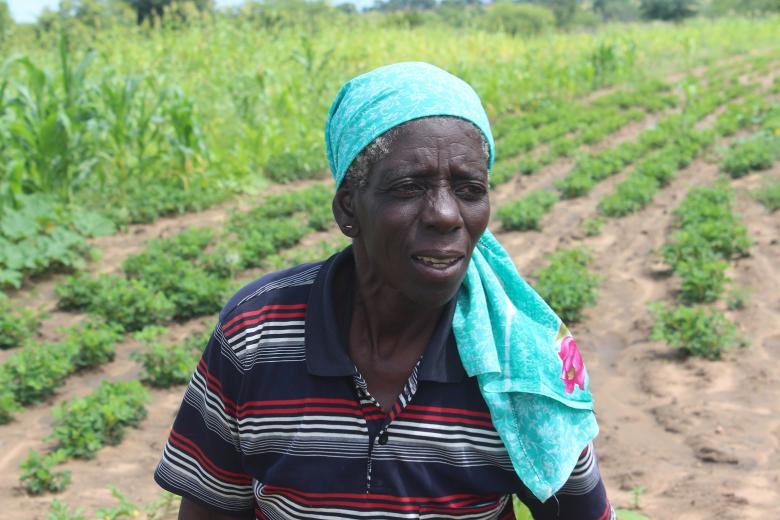 Cash transfer program restores livelihoods to drought-affected communities in Zimbabwe
Monday, April 10, 2017
Poverty levels remain high especially among the poor in rural areas of Zimbabwe driven by poor nutrition, low living standards, lack of access to safe water, sanitation and quality health services and quality primary education.
In the Insiza District where World Vision's largest programmes in Zimbabwe covering 10 wards is located, the number of vulnerable households is on the increase after the prolonged drought whose impact could go beyond 2017.
During the 2015-2016 season, the district has recorded over 200 cattle deaths, with only 10% of the total arable land cropped, several boreholes and water sources dried, livestock and humans competing for the little water sources available, over 90%  of the crops grown wilted and over 80% of the district's population of 100,333 food insecure.
A cash transfer programme funded by the Department of International Development (DFID) and implemented by World Vision in partnership with Care International supported communities to restore their livelihoods, improve their access to food and prepare for future emergencies.
Fifty-nine year old Thalitha Mafu is a beneficiary of the cash transfer programme. Her husband has a heart problem and is unemployed. She supports four of her 10 children who all go to school, nine grandchildren and a sick aunt. The rest of her children are married without proper employment thus are unable to help Thalita.
She has to feed the big family on her own. She has survived the drought losing 15 of her 20 chickens and 1 of her 2 only cows. All her crops in the field wilted and she does not expect any harvest this farming season. Her source of income has been the chickens and a small gardening project.
Her garden dried up and she could not plant anything. Losing 15 chickens has been a major blow to her annual source of income. "Before the farming season we had high hopes of receiving good rains this year and looked forward to a bumper harvest. Unfortunately, I lost my chickens and all my crops, maize and sorghum, died. I have to scour for food for my family," she explains.
Thalita is among the 2,480 households receiving cash assistance in the Insiza District of Matabeleland South Province. The programme seeks to enhance the food security status of vulnerable and drought affected households in four out of 10 provinces of Zimbabwe. It covers 50% of the household food basket and nutritional needs of communities.
Beneficiaries redeem cash to address basic household needs, primarily local food purchase though some will opt to spend the transfers on non-food items such as school fees and stationery. The project encourages use of locally available food resources by facilitating partnerships between dealers and suppliers.
With the cash that she gets, Thalita purchases 125 kg of mealie meal, 2kg of soya chunks and 2litres of cooking oil that lasts her for a month. For now, she has a reliable source of income and can eat two meals a day. Her children now perform better in school as they have a meal before and after school and attend all lessons in a week.
Depending on the household size, families with with one or two people receive a monthly cash transfer of US$15 per month and per person from World Vision through Ecocash, a money wire transfer operated by Zimbabwe's largest mobile network operator Econet Wireless Limited.
Households with three or more people receive a monthly cash transfer of US$7 per person. The cash transfer programme covers the period from March 2017 to August 2017. World Vision continually assesses the impact of the drought countrywide.