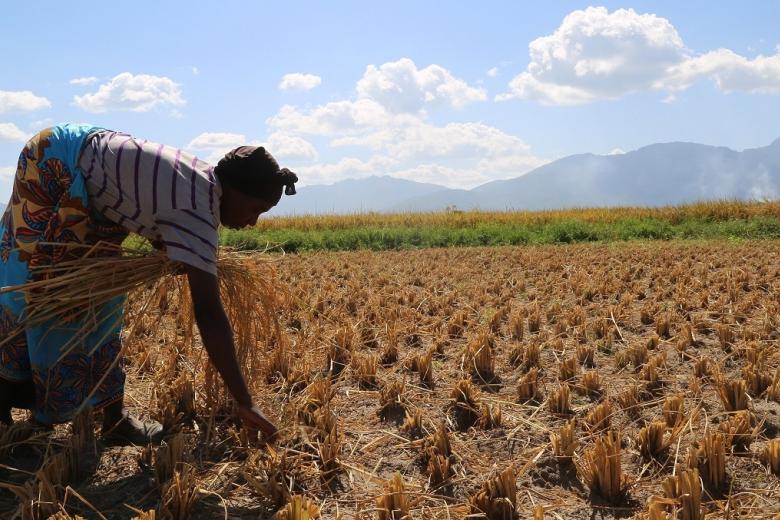 Community savings program steers farmers away from clutches of loan sharks in Malawi
Thursday, January 12, 2017
Out of desperation, the people of a remote community of Mposa rose to the challenge. The Chigwirizano Savings and Loans Group was born. Mothers like Maria Chingoka work hard to secure their children a good future but opportunities are too few. Three years ago, Maria lost her husband, the family's breadwinner. Life since then has been tough for the 52-year old mother. Living in a community that balances between floods and dry spells most of the time, she struggled working in her farm to support her family.
For many farmers in Mposa, rice is life. While they produce maize and other crops, it is rice farming that earns them the income to be able to build strong that can withstand bad weather. "The children benefit the most from this farm product," says one other farmers. "We pay our children's school fees, buy their uniforms, books and all the supplies that they need," Maria adds.
When an irrigation system was constructed in 1971 several families were provided with farmlands for rice production. Among them was Maria's family. This did not completely solve all their woes, though. Most of the farmers have little or no cash at all to fund their farming needs. This situation pushed them into the hands of greedy traders who provide them with steep financing loans leaving them with almost nothing after the harvest.
"If I took K10, 000(US$14) I had to give back 250 kilograms of rice as payment. This is almost paying back the loan at over 300 percent interest," says Maria. With the bag of grain selling at around 15 000 kwacha ($25) on the market, it was the loan sharks who went home with the profit.
Maria added that the traders are often inconsiderate and threaten the farmers. For decades, farmers in Mposa struggled to support their household's needs. If they need money for their children's school fees, they had no option but get more loans from the traders, burying themselves into more debt.
The vicious cycle continued until World Vision came, introduced the Village Savings and Loans model, and later linked the groups with Vision Fund Malawi. "Through the savings groups, we started making small savings as a group and provided loans to one another," says Alice Mkumbadzala, a member of the Chigwirizano Group to which Maria also belongs.
"Initially, the savings group was helpful," explains Maria, adding "However; we could not save enough to cover give enough loans to every member of the groups. We all needed money almost at the same time to buy farm inputs and provide some food, pencils, clothes and books for our children."
In 2016, a year dominated by the El Nino disaster, Maria and members of Chigwirizano Saving Group in Malawi have found a refuge in Vision Fund. Since World Vision introduced Maria and her friends to Vision Fund, she stopped getting exorbitant loans from the sharks. Maria's rice production now goes directly to the market where she gets good price.
Since taking her first loan of K50, 000 Kwacha ($71) in 2014 from Vision Fund, Maria said that her family's life has changed for the better. She has also become a leader, thanks to the learning opportunities facilitated by their saving and loans group. When the drought destroyed her maize farm, Maria increased her loan amount to K200, 000 Kwacha ($285) to plant rice and regain what she had lost.
Out of the loan, Maria bought three bags of fertilizers and hired people to work on the farm. She said the loan augmented the meager resources she earned from her maize meal business that did not do well because most people in the community have no money. From her efforts, Maria was able to harvest 3,000 kilograms of rice earning her a substantial income. She sold 2,500 kilograms for 1,375,000 Kwacha ($1,964).
"It is difficult for a woman like me to get a loan in this village," she said as she pointed her finger on the ground to stress the issue. She said men dominate the economy, and women like her are often less trusted especially when it comes to loans. "It is difficult for us women to grow financially. That is why we value the coming of Vision Fund".
Vision Fund now has organized 26,351 people into savings and loans groups across Malawi. "Affordable interest rates on the loans", Vision Fund Chief Executive Officer, Chilala Hakooma says, "Ensure that rural people are empowered to break away from the vicious cycle of poverty." He adds, "Through these loans, food security and children's wellbeing are secured."
"When the drought happened, we lost all hope," says Alice Mkumbadzala.  "But the loans gave us life and hope for our children", she concludes.