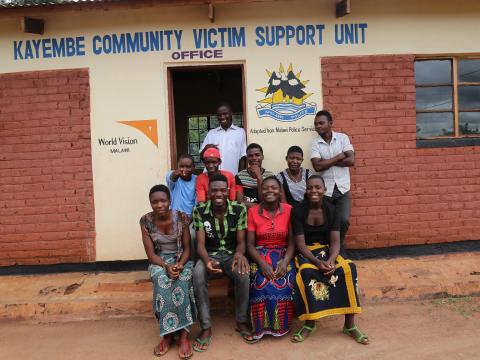 Concerted community efforts save girls from early marriage in Malawi
Tuesday, April 11, 2017
By Janet Mbwadzulu, Malawi Communications
Members of Child Protection workers in Traditional Authority (T/A) Kayembe are working hard to reduce cases of child marriages in Dowa District in Malawi and have put a law in place. According to Darius Changa, Child Protection Officer for Kayembe area, from seven cases per month, his office is now reporting at least 1-4 cases.
Many have contributed to the reduction of the cases and child protection issues. These include village child protection committees, the local police, Kayembe Youth Club, mother groups and World Vision among others in coordination with T/A Kayembe.
Together with the people in the communities, child protection workers in Kayembe created and implemented by-laws wherein parents from both sides of the children involved in child marriage are fined with a goat or MWK 10,000 (USD14) to the T/A through their Group Village Headman.
"There were numerous child protection cases in Kayembe. For instance, in May, 2015, Dowa District, which has seven T/As registered 64 child protection issues, however, 32 of these cases were reported from T/A Kayembe," Darius explained.
Darius said that child marriages, rape cases and child labor are the least reported.  Darius said, "Cases of child rape are on the increase because many witch doctors advise men to sleep with young girls as part of superstition to get rich. On the other hand, almost 90 percent of the people in this area rely on tobacco farming. As such, they dedicate their time to farming than taking care of their children."
"In some cases, other families move to other villages or districts to farm in other people's farms as tenants during the rainy season so that they can find food. Most of these families take their children with them or leave them with their grandmothers who cannot afford to provide proper care. As a result, the children drop out of school with nothing to do" he continued.
Darius said World Vision has been supporting child protection workers with trainings on how they can handle and report different cases. The Kayembe Youth Club is one of the advocates against child marriage. Grace Nyuzi, the chairperson of the club, expressed concern on the many challenges the club confronts in campaigning against child marriage.
Grace said, "Other parents hide the real age of their children and we lack tangible basis to support our argument. There are other parents also who look down upon us because we are young and say we are trying to fight against a culture that has been practiced for a long time. There were instances when people have ganged up against us and chased us with panga knives as we campaigned against child marriage".
Grace is very thankful to T/A Kayembe who has taoken the key role in ensuring their safety as they do their advocacy. "He empowered us before group village headmen to fight child marriage without fear or favor. He told us to report to him whatever resistance we face. This has put fear and respect for us among the people. At least now they dialogue with us with respect and abide with the by-laws we enforce," she said.
Grace said her club felt encouraged to pursue their 2015-2017 mission for children to 'Go back to school' because when they report a case, the Social Welfare Office helps in  following up to ensure justice is served. "Sometimes we take the issue to the T/A and we are supported accordingly. We believe that with this, we are creating a better tomorrow for Kayembe," she added.
The Kayembe Youth Club started in 2014 and has 20 members. Among other things, they conduct awareness campaigns, perform theatre plays to disseminate child protection messages and do piece works at a small fee that they use to buy notebooks for most vulnerable girls and boys who have gone back to school.
Sankhulana is one of the girls who was rescued from marrying early. She was married last January 2016 at the age of 16 while in grade 7. She stayed in her marriage for nine months only as members of Kayembe Youth Club approached her through her parents to end the marriage. She called off the marriage in October 2016 and delivered a baby in December the same year.
Today, Sankhulani is taking care of her child in her parent's home as she awaits to go back to school when the baby is ready to be left at home and weaned from breastfeeding. In the month of February 2017 alone, T/A Kayembe has reported four child marriages.
World Vision's campaign in the country is focused on ending the practice of child marriages under the theme, 'It takes Malawi to end Violence against Children'.