Food bank ensures food security for community
Wednesday, July 4, 2012
Chaka Diarra, a 14-year-old Grade 6 schoolboy and his family have benefitted from the cereal bank built by World Vision.

Chaka and his family received three 100 kg bags of cereal from the cereal bank.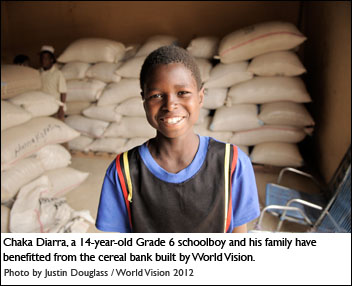 During the summer holidays, Chaka helps his family cultivate the land for planting crops of millet, peanuts, rice, phonio and corn. If there was not enough rain then there would not be enough harvest for Chaka and his family to last them the whole year.

Food supplies are at its lowest point during the rainy season or lean season which is from June through September. World Vision has built a cereal bank in Chaka's village to mitigate against food deficits.

Families can get cereal from the cereal bank and repay the cereal bank after the harvest. However, there is a 20 per cent charge for taking a 100 kg bag of cereal. Therefore, if a family takes a 100 kg bag, then the family must give the cereal bank 120 kilograms of cereal upon harvest.

"I am glad to have cereal bank because it helps us to get food when the rains are not good," says Amadou Diarra, Chaka's father. Chaka's family gets cereal in July and pays it back from December to April.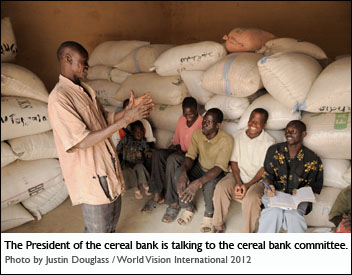 Amadou reports that if World Vision did not build the cereal bank, his family would have a food challenge and he would have to go farm for someone else. The wages earned for working on another farm would be used to buy food. Amadou says working on another farm is not good because a family is unable to work on their own farm and not grow their own crops and have their own cereal. The second option Amadou and his family face is even worse. He would leave his home, as part of a growing rural exodus and his close knit family would be broken up. The older children would be sent off to towns or the capital city to earn income for food. The mothers would be left to take care of the little children by themselves.


Cereal banks are one of the coping mechanisms for families to survive during times of drought and a failed harvest. Chaka is able to grow up more healthily and is better equipped to study in school because he has had breakfast and can concentrate much better than a child that is hungry. Therefore, Chaka is able to achieve better results in school which will enable him to be better equipped for the future.
"It is different working for someone else because we will continue to suffer because we have no time to work on my farm" Amadou Diarra says.

"If World Vision did not build the cereal bank then I would not be able to provide enough food for my family," Amadou Diarra says.