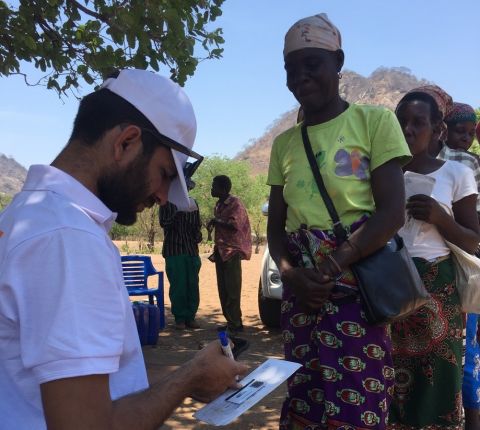 By Antonio Massipa, Mozambique Communications and Cecil Laguardia, Southern Africa El Nino Response
The Mozambican Humanitarian Consortium (CHEMO) composed by World Vision and Food for the Hungry funded by the Department for International Development (DFID) recently distributed aid food to 2,500 El Nino-affected households or around 12,500 people in Goba community, Changara district, in the central Mozambican province of Tete.
CHEMO also works closely with COSACA, consortium in Mozambique consisting of Save the Children, Oxfam, Concern Worldwide, and Care. COSACA implements similar interventions like CHEMO – but in a different location. A total of 13007 drought-affected families are targeted to enhance their food security and resilience.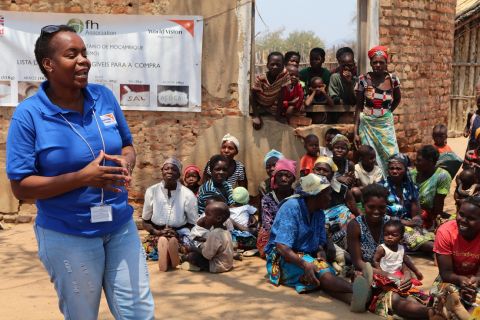 In partnership with MasterCard, the food fairs are done using an innovative electronic voucher program. It allows beneficiaries to buy food of their choice through accredited vendors, which includes maize, salt, beans, cooking oil, rice and sugar.
The impact of El Niño on agriculture has resulted in loss of crops and livestock, which, in turn, affected food security and nutrition in Mozambique. In fact, Mozambique's Secretariat for Food Security and Nutrition points out that about 1.5 million of people are facing food insecurity across Mozambique and more than 100,000 children are at risk of acute malnutrition.
DFiD-CHEMO Consortium Manager Katharina Witkowski said World Vision and Food for the Hungry are actively engaged with the government – from district and provincial level to present the program to support the beneficiary selection and the overall program implementation.
Witkowski said, "We would also prefer to give people direct cash because this would leave them more options and choices. However, the areas that we are targeting with the CHEMO program are the most vulnerable, partially due to their geographical location. They are very remote from any market, any shop. It often takes us several hours to get there by car. This mean that there is no place where people could shop and spend their cash."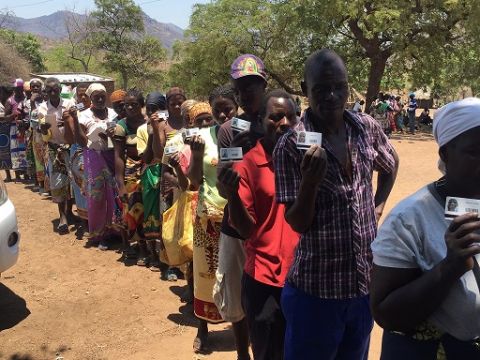 "This is why we are bringing the vendor to the community. The reason why the e-voucher is restricted is currently for logistical reasons since the food supplier is coming from far away we had to agree with him on items that he would bring, so we had to make a "pre-selection". However, are hoping that as the program continues, we can find some local vendors who can participate in the program and who can bring in more food, so that people have more to choose from", she added.
Maria is a mother of three and lives in one of the affected communities. She has been struggling for months in order to feed her children following the devastation of her crops by drought. Since then Maria's family diet consisted of wild fruits they collected in the bushes. But these fruits became scarce after sometime.
"We were not the only family who collected wild fruits. Every family in the community collected them, because we all don't have food," Maria explains. "There were they we would go and look for the fruits only to come back empty handed," she continues.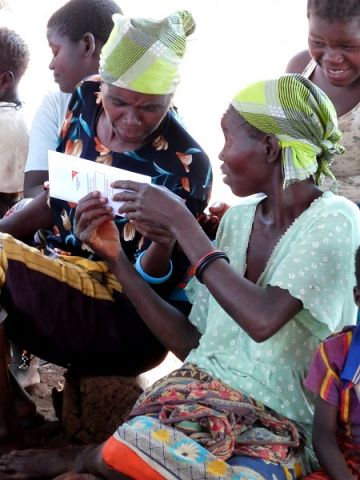 Despair seized the family, because on those days Maria and her family would sleep with empty stomachs. Maria says. "Just when we thought this was the end of it all, Word Vision came and gave us hope by assuring us that we would soon be getting food for at least six months." She continues, "It was like being given a new life. Just the thought of having food was restoring and when distribution started I had no doubt that God is real."
Maria doubted about God as she went through the ordeal with her family. She thought if there is one, she was revolted because she could not understanding why such God, said to loving and caring, would allow His children to suffer.
World Vision's interventions through emergency response project completely changed what she felt and believed. Her belief in God restored, she tells people about Him. Now Maria smiles and says, "We are happy that we have food and our children will have the dignity to have at least two meals a day every day."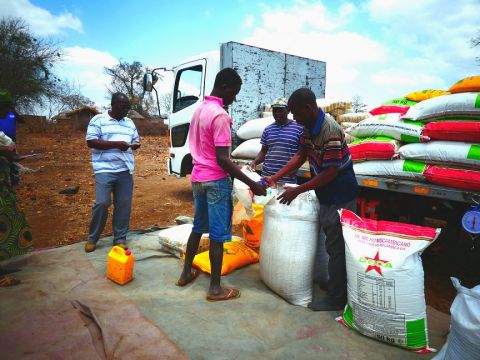 ---
Featured image: In partnership with MasterCard, the food fairs are done using an innovative electronic voucher program. It allows beneficiaries to buy food of their choice through accredited vendors. Photo by Katharina Witkowski