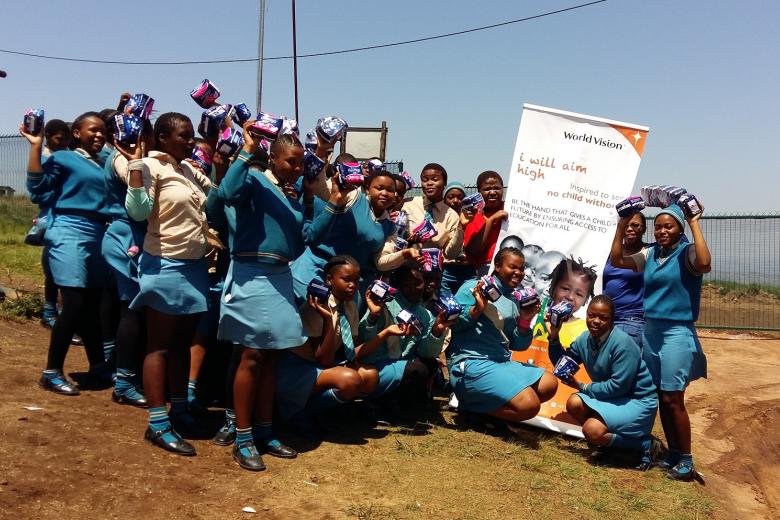 Girls can suffer more than boys during drought; assessment answers why
Thursday, April 20, 2017
By Ireen Mutombwa-Shumba, South Africa Humanitarian and Emergency Affairs
The impact of El Niño in South Africa goes beyond food insecurity and water scarcity. The drought exacerbated child protection issues that already exists despite the government and many organizations like World Vision responding to the urgent needs, especially water and food, of the affected population.
The assessment done by World Vision in the Kwa-Zulu Natal and Limpopo provinces revealed that the negative effects of drought than boys hit most girls hardest. Most schools reported high levels of absenteeism among girls compared to boys. School authorities and groups of girls who were engaged in interviews during the assessment highlighted that most girls were absent from school during their menstrual cycle.
This was due on the failure by their parents or caregivers to buy them sanitary towels due to the financial strain which drought put on them provide for their families. Through the UNICEF grant aimed at addressing child protection issues during emergencies, World Vision, in collaboration with the Department of Social Development and local schools distributed sanitary towels to girls in selected schools in the above provinces.
'World Vision is one of the organizations that has really contributed much towards El Nino response and we have engaged together in the Child Protection in Emergencies provincial training which really added value to our work as humanitarian actors", said Sam Sithlangu, the Provincial Head of Response for Disaster Management Centre in Limpopo province.
The initiative supported 1,351 girls in the provinces. "It is a challenge to experience menstrual cycle when our parents could not afford our needs as they were trying hard for us to get a meal or two in a day", explained 17-year old Lebo (not real name), a grade 9 learner at Sangweni Combined School.
Ntembi, 15, added, "We are so grateful to World Vision and partners for restoring our dignity as we used to feel uncomfortable in class and to participate in sports during our menstrual cycle fearing that the cloths we used would be stained. Most of us used to mess our skirts and chairs in the past from using old socks which also caused unease skin irritation in our private parts."
When the World Vision response team engaged with some girls two months after benefiting from the sanitary towels distribution, the children expressed apprehension on how to cope if they will not receive sanitary towels in the coming months. They highlighted that despite the fact that drought impacts have been minimized their parents and caregiver do not prioritise purchasing sanitary towels for them and that they encourage them to use old cloth.