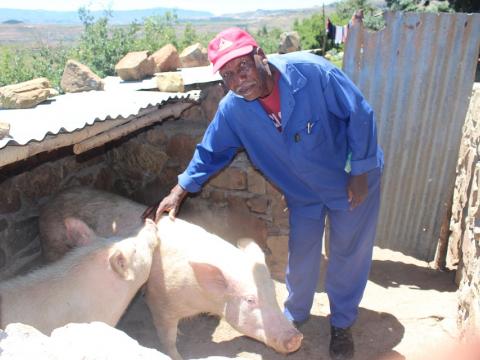 Livelihood project assists Lesotho families through drought
Thursday, January 19, 2017
"The southern part of Lesotho where our district is situated is already arid even before the drought. Our existing coping mechanism during the normal drought was undermined by the recent El Nino. The Lehlahlela Pig Growers project was started in 2011 with 11 members composed of eight women and three men. Its aim was to slaughter a pig each month and sell the meat to members before the general public," Mahlehla says.
Fusi Mahlehla, 71, the treasurer of the project, said each member was expected to spend at least $14.15 buying pork to increase the returns and promote a sense of ownership of the project amongst the members.  The remainder would be sold to the general public at $0.71 and upwards.
It was the profits generated from this piggery project that sustained the families. They were able to buy maize meal, cooking oil and vegetables for their daily consumption. "Every once in a while we would buy school uniforms, books and other school items for our children. These are the thing we cannot afford if not for the income generating project," he adds.
Through the El Nino induced drought, the future of 11 families at Ha Moseneke village in Quthing district was uncertain. Mahlehla, who acts as the treasurer of piggery project worried that their members would not have lived to see the year 2017.
World Vision met with the group three years after it was started. They trained the members on bookkeeping, piggery breeding that is suitable for their context and good nutrition. "It was after this training that World Vision donated two gilts and a boar to our project, along with their sustenance composed of 10 bags of pig grower and four bags of finisher. These bags were able to sustain us until we raised the funds to buy them food ourselves," shares Mahlehla with pride.
He adds, "Our group was struggling to meet their family needs before World Vision's assistance. World Vision provided us with the improved breed which sells very well in the market." The members adopted the concept of a savings group after an encouragement by the Ministry of Agriculture. As they grew and expanded, they began forming laws for the smooth running of their piggery project and the savings group.
Mahlehla concludes, "Each member paid $ 1.42 annual fee. For the smooth functioning of the savings group each member had to contribute $ 3.54 and expected to borrow some amount for their family needs which they would return at 10% interest rate."