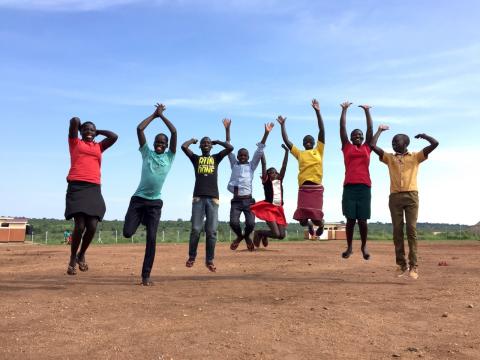 Meet 8 future leaders of South Sudan
Wednesday, July 5, 2017
You can almost understand how hate festers and grows when you hear stories of the brutality South Sudan's refugees have faced. 
Children have witnessed their families or friends killed. They've been separated from their families when they ran from gunshots peppering their villages. They're not sure if their families who they left behind are dead or alive. 
"My aunt and I walked for seven days and along the road we saw blood and dead bodies," says 12-year-old Blessing who is living as a refugee in northern Uganda. 
Many children share similar experiences. 
But these young refugees are refusing to let hate win. They're members of a World Vision peace club, and they're determined to change the hearts and minds of their fellow citizens. 
"If I continue to hate, or not be united with my neighbours, what will happen? We have to create love, peace and unity to stop the fighting," says 16-year-old Eva. 
They've got a vision for a unified South Sudan, a place they hope to return home to and help develop in the years to come. 
These are their wishes: 
Faida, 17, a future engineer
"If I went back to South Sudan, I would unite people through conducting peace meetings and tell them the advantages and disadvantages of having peace. I would promote forgiveness, unity and love. Without love, you can not forgive."
Sam, 17, a future politician
"When I go back, if I go back, I have to encourage peace. I want to become a politician so I can show love to people. As a country, we're supposed to love each other as one people to build unity."
Annet, 17, a future lawyer
"I want the leaders of South Sudan to unite for peace. We the children have suffered a lot. I want those who have been left behind in South Sudan, I want them to be safe and protected."
John Bida, 16, a future judge
"I want to promote Ubuntu – the idea that 'I am because you are' as part of bringing back peace when I return to South Sudan. Poems, dramas, sports, writing and drawing can also build peace." 
Eva, 16, a future nurse
"We are all one people. Strife should not separate us. We are all called South Sudanese. We have to have that love among us."
"Right now, they are losing the future of the children. Unless there is unity, then there is a future for the children.
Edison, 15, a future governor
"Peace is important because people can trust each other and then there is no war."
"When people are fighting, we separate them and tell them the disadvantages of fighting."  
Simon, 16, a future doctor
"I dream of going home and for my country to be peaceful."
Blessing, 12, a future peacemaker
"I dream of seeing my country again and my parents again." 
 - story/photos by Mark Nonkes, Moses Mukitale, Cecil Laguardia