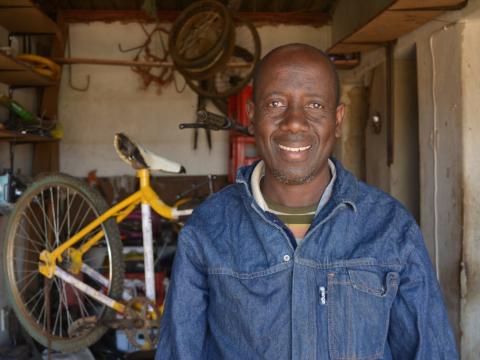 Meet South Africa's bicycle expert
Tuesday, October 18, 2016
Story by: Wezzie Gondwe
Photos from: Janet Mbwadzulu

It is 1971. Nine-year-old Komello can't keep his eyes off the white boy riding his BMX. He wishes he owned one. But that's a far-fetched dream for a black child in the apartheid era. Hours later, Komello befriends the white boy and he lets him ride his bike. Little did he know that it was the beginning of a lifelong career. The career of becoming the bicycle professor as he is now nicknamed by his customers.
"My passion for bicycles start from way back. When I was young I used to fix white boys bicycles when we played. My first job was at a bicycle company. And ever since I have only worked for bicycle companies, nothing else," Komello says.
Now, at 56 years old, Komello is the only bicycle mechanic in his area, a Johannesburg suburb with a population of nearly 7,000. A lot of people in his area use bicycles as their mode of transport, providing a good market for Komello's business.
But this was not always the case. When their bicycles got broken, they did not bring them to his shop to be fixed.
"Before I was trained by World Vision to repair bicycles, I would get customers here and there. I had the skills, yes, but no qualification, so only a few came here. My income level was very low since I relied on fixing the bicycles only," says Komello. 
Through World Vision's Orange Farm Area Program, Komello took part in formal training to help boost his business and improve his livelihood. At the end of the training, he was also given some spare parts and tools.
Being the only trained bicycle mechanic in his area, Komello now has more customers. His other regular customers are school children who received bicycles from World Vision's Bicycle Education Empowerment Program (BEEP) which was launched in 2014.
"When these children break their bikes, this is the only place they come to because I am their trusted bicycle fixer," he says.
Orange Farm Area Development Program implemented BEEP to address children mobility to school by distributing bicycles to 1,260 children.
From the bicycle repairing business, Komello has bought a second hand car, constructed a house and another building in which one of the rooms is the bicycle mechanic shop, the other two he is renting out to a saloon and a hardware shop. 
"I am also operating this tuck-shop but it is not as big as I want it to be, I am increasing stock little by little" he says.
"My future plans are to expand my business into selling bicycle spare parts. This should be a one stop shop where you can buy spare parts and get your bicycle fixed at the same time." he adds.
In an area where unemployment is estimated at 70%, when asked whether he is thinking of employing others, Komello answers YES with a big smile on his face. As two school children walk away from the tuck-shop he says,
"I will employ someone. This business is growing. I can't attend to the tuck-shop and the bicycle shop by myself," he explains.
Although Komello dropped out of school at standard five, he has big dreams for his own children.
"They must reach college no matter what. They have to be better than me," he says.