Niger: Reaching out to refugees
Thursday, June 14, 2012
By Michael Arunga, World Vision Emergency Communications Advisor - Africa
A smile flashes across the face of 30-year-old widow Salimia Abdulrahman. She is receiving an array of life saving items at a refugee camp in Niger.
"This is a major relief, considering the many days I have travelled in search of a peaceful environment," she says.
Indeed, this is the first time that Salimia is receiving any form of relief from World Vision and other humanitarian agencies.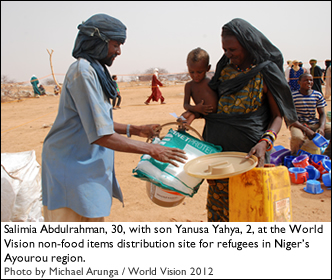 Salimia fled the conflict stricken Ansongo area in her home nation of Mali more than a week ago.
Together with her four children, she says they travelled continuously for eight days, motivated by a strong will to live and to avoid the armed conflict in Mali.  After crossing the border, she arrived in Niger and was settled in a place called Timfagat.
"At least in this area, we are not subjected to the rapid sound of gunshots that we had become accustomed to in Mali that snuffed lives away," she says.
Like the other refugees, Salimia arrived at the distribution site in the wee hours of the morning, determined to receive the relief items.
When it is time for her to be served, she gratefully stretches her hands to receive a World Vision branded bucket, two mosquito nets, a kettle, a plastic container, baby diapers and several tablets of soap.
The mosquito nets will protect her and the children from the dreaded malaria causing mosquitos. The bucket and containers will be used to fetch clean water that will protect them from water borne diseases and the tablets of soap help raise the hygienic bar against bacteria that cause killer water borne diseases like cholera and diarrhoea.
"The humanitarian crisis in Niger is cyclical. I am happy that we have learnt from previous experiences. This response is successful," says Boukary Gambo, World Vision Niger's Humanitarian and Emergency Affairs (HEA) manager.
 World Vision is working closely with other agencies within Ayourou. About a 100 metres from the World Vision distribution site is a Médecins Sans Frontières health clinic. Several metres away is a World Food Program site, with hundreds of their branded sacks of their relief cereals, tins of oil, among other items. Officials from the United Nations High Commissioner for Refugees (UNHCR) are also present, several metres away and are helping new arrivals set up shelter structures.
Gisa Abdulsalam, a man who is approximately in his mid-50s, is another Mali refugee in the camp. Like Salimia, he too fled Mali's Wataguna area with his wife and three children.
"We could not stay for one more day in that area after a close relative was killed. That brought the reality and the stark consequences of the conflict closer to us," he says, a look of fear on his face.
Gisa's naked children, unlike many others who are orphaned from the crisis, appear happy as they play around their parents.
Like the other refugees who queued at the World Vision distribution site, they too have received the life saving non-food items.
He is hopeful that he will not rely on humanitarian support for ever, but will establish an income generating activity that will help him become self reliant.
"I hope someone helps me secure a portable cart. There is need for transportation services for the many needy people here," he says.
UNHCR has projected that more than 14,000 refugees will flee from Mali into Niger, due to the on-going conflict.