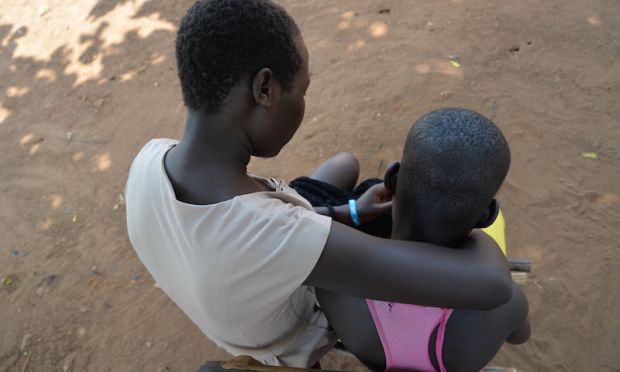 Pain is an understatement when used to describe the excruciating story of 16-year-old Zaida*, a South Sudanese refugee child currently residing at one of the refugee settlements in northern Uganda. Zaida left South Sudan with her mother, elder brother and 8-year-old sister. But she only made it to Uganda with her sister. Her 19-year-old brother was shot dead and her mother abducted.
But that was not all for Zaida. She falls in the wrong arms of people she met and trusted on her way to Uganda, who would later rape her. Zaida is now one month pregnant and faces the grim reality of giving birth to a baby whose father she will never know.
"We had been walking for three weeks when all of a sudden we encountered a group of armed men. We all began running back to where we came from. Our mother was pregnant and she could not run fast. She stumbled and fell down but asked us to keep running. We looked back and saw the men picking her up. They then walked away with her inside the bush. We just kept on running'', she recalls.
''We walked for another two days, sleeping in bushes at night and eating whatever food we came across in people's homes. On the 3rd day, we met another group of armed men and we begun running in different directions. The men shot my brother in the back and killed him. We left him there as we kept running", she adds. Zaida says they cried bitterly but kept walking for another two days but they could not locate the route anymore They had been running through bushes for some time and when they got to the main road, it was not the one leading to Uganda.
''As we were walking, we saw a vehicle coming and stopped it. There were four men inside and they told us they were proceeding to Uganda. They offered to take us along with them and we accepted", she further shares. The men drove with the two girls until eight in the night and told them they would proceed the next morning telling them it was not safe.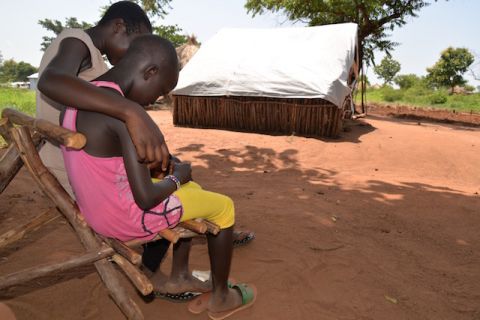 ''After we had parked, the men pulled out their pistols and asked us to keep quiet. Three of them walked away with my sister until I could not see them. One remained, pointed the gun at me and asked me to undress. He raped me and after a while signalled the other three to bring back my sister'', Zaida says as tears run through her cheeks.
After accomplishing their mission, the men later drove away that same night, leaving the two girls in the middle of nowhere. She adds, ''We cried that whole night. I did not move from the spot where he raped me. I was so frightened and yet I could not tell my sister what had happened to me. She however told me that the men did not do anything to her.''
The next morning the two girls embarked on their journey once again. This time, lady luck knocked. They encountered a group of women preparing to travel to Uganda. The women would however call off their plans and choose to first nurse the two girls. Zaida says she and her sister spent three weeks with the women.
''All this time they fed and kept us inside their homes until it was safe for us to travel to Uganda. We walked for another two days and reached the Uganda border'' Zaida says. Upon arrival, the World Vision child protection team met Zaida and her sister. The team registered her case and referred her for medical examination with Medicins Sans Frontiers (MSF). The results showed that Zaida was one month pregnant.
The two girls have now been placed under foster care parenting and are being helped by World Vision to go through counselling and psychosocial support. A refugee couple at the Imvepi refugee settlement was qualified to provide them foster care. Zaida feel miserable with her condition and worries of her future. She says, ''How am I going to raise this child. What will I tell this child? I don't even know the father. I have my 8-year-old sister to take care of, how will it be when this baby comes. I don't know how I will manage.''
Zaida is just one of the hundreds of unaccompanied and separated children arriving daily from South Sudan seeking refuge in Uganda with neither father nor mother. Many have witnessed their parents either being killed. Those who were killed along the way can never even be buried by their families due to fear of being attacked.
Evelyn Lucy Atim is among World Vision staff members in the frontline helping children like Zaida. She was among the first ones to respond to the refugee crisis ensuring that child protection measures are in place for the children in distress. "To help a child like Zaida, we screen and do an assessment of the child's condition and other concerns. A counselling and psychosocial support are also immediately done then we refer the child to other organisations such as MSF for medical treatment and sexual and gender-based violence counselling from the International Rescue Committee (IRC)", she says.
Evelyn adds, "Our case management helps them acquire basic necessities such as soap, clothing and other items. A foster care arrangements gets the child to an appropriate foster parent, also refugees themselves, who will serve as a mother and father to the child. We do home visits to monitor progress and how the child is coping well."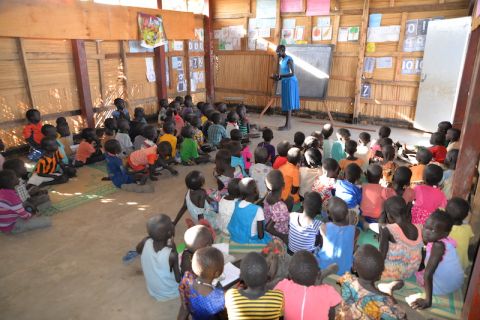 "Through funding support from UNHCR, World Vision integrates child protection processes in its response programming, in coordination with other agencies including the Ugandan Government. These are very important measures in a situation like this where around 60 percent of children are among the South Sudanese refugees who come to the settlements in northern Uganda. As urgent as providing them with life-saving essentials, their emotional and psycho-social well-being must also be attend to. They have gone through so much and it is imperative for us to address this immediately", says Benson Okabo, Operations Manager of World Vision's West Nile Refugee Response.
*name changed to protect the identity of the child