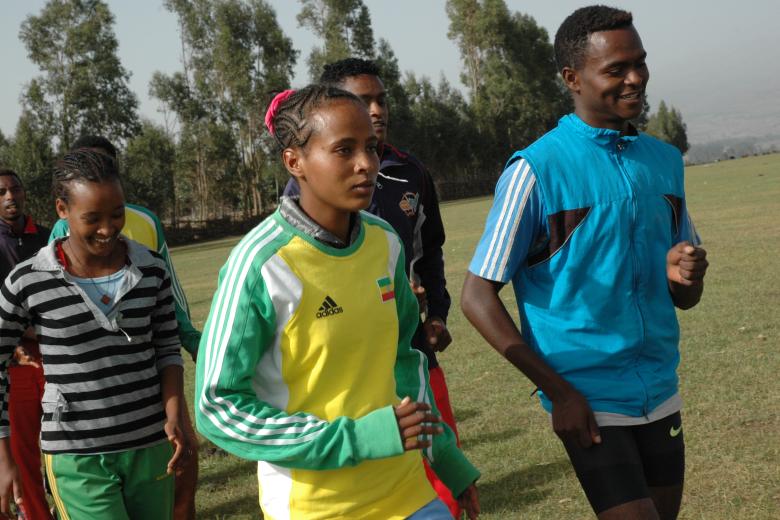 Running towards a dream
Friday, July 6, 2012
By Aklilu Kassaye
Gulmie Tekle kicks, bends and stretches.


She's warming up for a training session at one of the most prestigious running schools in Ethiopia.
Her coach is by her side, offering tips.
"Of all the newly recruited young athletes, Gulmie is one of the best and active athletes," says Abay Negash, her coach.
Gulmie, 16, is training for 800 and 1,500 metre races in a nation where long-distance running is revered. In the last three Olympic Games, Ethiopian athletes have captured 10 gold medals in long distance running.
"I do hope that I will qualify to international competitions in next three years," Gulmie says.
A long way in a short time
Gulmie used to want to be a medical doctor.
But then something happened that changed her mind. She watched TV and saw Olympic great Derartu Tulu, an Ethiopian woman who twice won the 10,000 metre Olympic competition, run to victory.
"Her contentment, the glowing jubilee and warm appreciation of the spectators at the stadium after victory struck a why-not-me question in my little heart. Since then, I decided to be an athlete like Derartu," Gulmie says.
But the road hasn't been easy.
Born to a poor farm family, Gulmie has 11 siblings – nine sisters and two brothers. Her family had little income and wasn't able to financially support her.
At the start, she trained by herself, running barefoot.
"The little sharp stones and thorns were piercing my foot. Sometimes the pain was so severe that it used to prevent me from exercising for my daily training," she recalls.
Yet, she persisted. Within two years, Gulmie became one of the top runners in 800 and 1500 metres at her school. In the same year, she was recruited to represent her school at the annual district level school athletics competition.
She won both of the running events.
Support for promising athletes
Gulmie caught the attention of World Vision staff members. The organisation was implementing a three-year project for 70 gifted athletic children. Gulmie's running results helped her get support.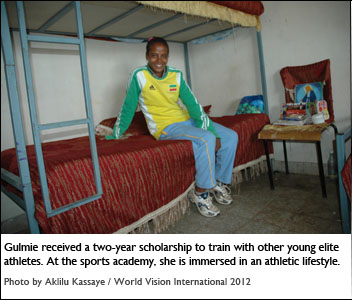 She was provided sports gear and her family received a sheep and a cow, so that Gulmie could have proper nutrition.
"I can't tell you how much the World Vision support helped me," Gulmie says. "The support capacitated me to firmly stick to my dream. It energised me."
Reaching the next level
After her win at the district level, Gulmie moved on to compete at the zonal level. Again, she captured first in the 1,500 metre run. She continued to compete, and took part in a state-wide competition. This time she finished third.
There, her performance also caught the eye of Abay Negash, her to-be coach.
After the race, Gulmie was offered a two-year sports scholarship, to finesse her running at a prestigious athletics academy. She accepted, and left home, moving to the sports centre in September 2011.
Since then, she has been receiving professional training five-days a week.
"She is amazingly improving her performance every time. I do hope that if she continues this way, she will be the top news of the media in middle distance in the next three to five years," Abay says.
Gulmie dreams of big victories in the future.
"I will never let down my soul until I hold a grip on my dream," Gulmie says.
World Vision's running project continues to support young athletes. Of the 70 children who have been supported, 15 of them have also attracted scholarship opportunities to various athletics academies.