Rutshuru: Sound of explosions, gunfire and brutal life of the poor
Thursday, June 21, 2012
By John Kisimir, World Vision Southern Africa
They are called Wakimbizi, refugees, people on the run.
They are hopeless, fearful children, their parents trotting along the dusty roads of this lush country. Bags, pots, pans, all kinds of stuff on their heads. Always on the move - almost in unison with the sound of the guns and explosions emanating from the mountains that grace the horizon.

Eight year old Nyaranzo is among the thousands who are now homeless as a result of recent fighting between government troops and mutinied soldiers who formed a rebel group M23, separating from the CNDP.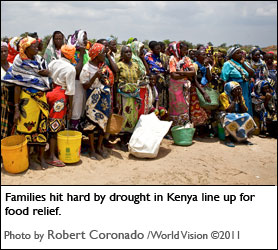 She looks up to the sky as the sound of gunfire and explosions ring in the horizon. No one needs to tell her what it is, for that's the reason she's on the run, hungry and lonely.
With 900 other families, she has camped at a school in Kiwanja in Rutshuru. A dusty classroom is her home at night and the playground, where she stays during the day. She has no family here - possibly lost as they ran for their lives. But a good Samaritan – a woman with four other children is watching over her.
Her vivid sadness and hunger bite even the stranger.
As she looks up to the sky as the sounds of the explosions bring a lull to those around her, her wish is to see her mother again.
"I just remember people running," she says. "Maybe my mum is still coming."
That's her wish but it could be a pipe dream for now.
As the government and rebels fight along the Runyonyi Mountains, movement of population becomes more difficult. It will be dangerous to move.
World Vision's concern for the displaced is safety of families in areas where the fighting is going on. Most have lived in a war-zone for close to 20 years, and although they have built up good coping mechanisms, being displaced exposes them to much greater risks. In the coming months, as fighting continues, thousands more will be displaced and will not have access to help.
"We are very concerned about the situation of the population in areas where the fighting is going on," said Jonas Habimana, World Vision's Programme Coordinator based in Rutshuru town. "We are worried about their safety and lack of basic needs like food."
World Vision, in partnership with the humanitarian community, continues to advocate for the protection of civilians by the UN Stabilization Force, the Government and parties to the conflict as well as establishing a protection response including Child Friendly Spaces to assist the displaced.
Another big concern is the lack of adequate food and shelter. This situation will put pressure on food reserves of the host communities who are always eager to help those among then who have no food. But this means that in a short while, all of them will be without food.
"It is a crisis. They are suffering. Food is the priority here. There is also need for shelter and cooking sets," said Joseph Mukis, World Vision Humanitarian Emergency Director.
Only a fraction of 200,000 who have been displaced in recent weeks have access to food and shelter.
World Vision is partnering with the World Food Program to provide food rations to the displaced, while other Food Security cluster partners are addressing the challenge in North Kivu.