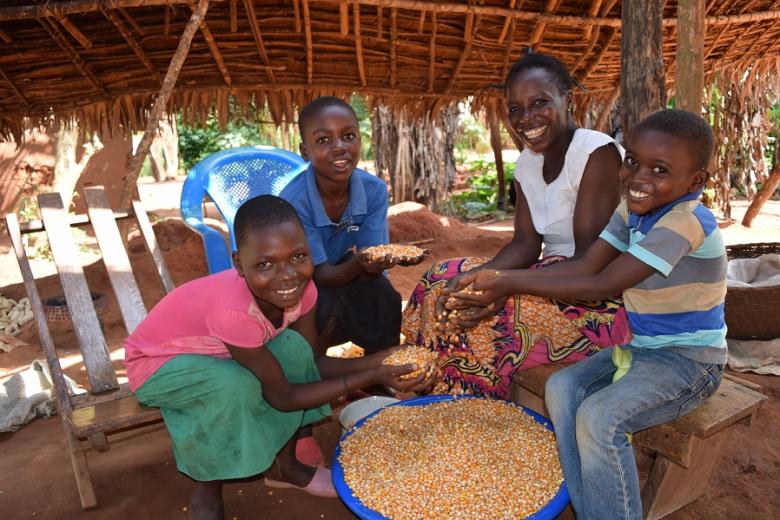 Savings group provides better income and hope for a bright future for Brigitte's family
Tuesday, April 25, 2017
Today Brigitte is happy. Her children can go to school and are in a better condition compared to previous years. She is among the community members who have gone through training sessions on saving groups, market gardening and farming and association formation and organization conducted by World Vision in the Democratic Republic of Congo.
Brigitte married and a mother of five children, three of whom are sponsored, 11-year old Ruth, 9-year old Charlie and 7-year old Bonheur. Before, she has had difficult time to send her children to school and take care of her family for lack of means and sufficient income. The children often dropped out of school for non-payment of school fees.
The trainings helped Brigitte to acquire skills and knowledge allowing her to become member of TIAMOTO savings association and start doing market gardening and improved farming. She was able to save some money together with fellow members. With her savings and the income earned from the activities, she can now better provide for her children's schooling and health.
Brigitte used part of the savings to buy two pigs and six ducks that she is breeding to diversify her income opportunities. "I hope this husbandry efforts will help my family to have enough food, especially meat and generate more income by selling them", said Brigitte adding, "The food and income will surely ensure my family's well-being."
Bonheur shared his joy with a World Vision staff who came for a visit them saying, "I and my two sisters have resumed going to school with our new uniforms, school bags and notebooks. All our school fees have already been paid." With all the resources Brigitte gained from her income-generating activities, she and her children are confident to fulfill their dream of a better future.
Brigitte's dream was presented with a brick from which she will build a big house. Bonheur said he will become an architect working for his country. Ruth wants to be a dressmaker and Charlie's ambition is to become a nurse and help care for the sick patients. "I am very thankful to World Vision, its partners and donors for their supporting us and our community", Brigitte said.