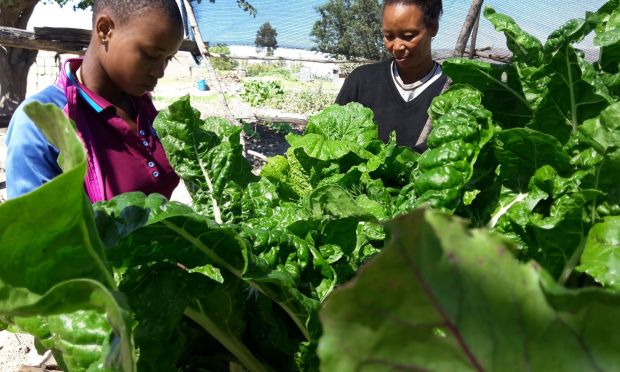 Malekhetho, 38, has just received R800 ($63) voucher to buy seeds. If she had a choice, she would immediately buy food because it was an immediate need for her children. As she got hold of the voucher, she wanted to disregard the donor guidelines that requires the voucher to buy seeds.
The seed vouchers came at the time when she and other community members had reached a point of acute food shortage because of the El-Niño induced drought that had befallen the country. "For me seeds at that point have no meaning. All I needed was food to feed my children who were now going to school without having eaten anything", she said.
Unfortunately, the instruction were strictly to use the money to buy seeds. She added, "I was not sure whether the seeds were going to make it through the drought but God works in favor of those who rely on Him." After her initial resistance, she now realized the seeds she planted and became vegetables do not only help her feed her family but even earns her some income to buy for their households needs.
"The thought of buying seeds when I knew I needed to buy food got me frustrated. I was even tempted to decline the offer wishing I had the flexibility to do as I saw fit but the instructionwas verystrict", she revealed. Deep down, she knew planting the seeds were the best option because if they successfully grow, it is a long-term solution to food insecurity.
She recalled, "I had reached a point where I would knock on my relatives 'doors asking for food. What makes me happy now is that at least my children can eat before they go to school unlike in the past when they had to rely on the only meal they get in school. That created tension because many people were digging into their last reserves and were hesitant to share."
"My children depended on the meal they get in school and often, it was their only meal. There was a lot of uncertainty about what the future held in store for us but now the seeds have given us hope", Malekhetho said as she prepared vegetables for cooking as part of her family's meal freshly harvested from the keyhole garden next to her home.
"I sincerely thank the people of the United States who helped provide for this opportunity to grow our own food and to better prepare for future drought. I now feel empowered to care for my family when another disaster comes", she added.
Her 16-year old daughter Mpho shared, "I used to feel sad that my mother was not able to provide food for us. I know she is a hard worker. I could see that she was trying her best to find food for us but it was not easy. Things are now better."
"It was the most difficult moment of our lives because the immediate need then was food. Seeds needed strong believers to see the future beyond the drought. I was also not sure not sure I would make it but thanks to the project coordinator who motivated us to see beyond the El-nino", said Matsepo, 51. She is one of the lead farmers trained to be mentors of the beneficiaries of the project.
The Diversification for Nutrition and Enhanced Resilience (DiNER) Keyhole Garden Response to Drought Emergency Project supports 40,000 beneficiaries from 8,000 vulnerable households. The United States Agency for International Development (USAID) and the Office of Foreign Disaster Assistance funded the project. The Catholic Relief Services (CRS) works in partnership with World Vision to implement the project.
It covers food security and recovery while aiming to improve medium term resilience to future disaster shocks in the districts of Mafeteng and Mohale's Hoek located in the south of Lesotho. The Lesotho Vulnerability assessment Report 2016 revealed that food insecure population increased from 463,936 last year to 709,394.