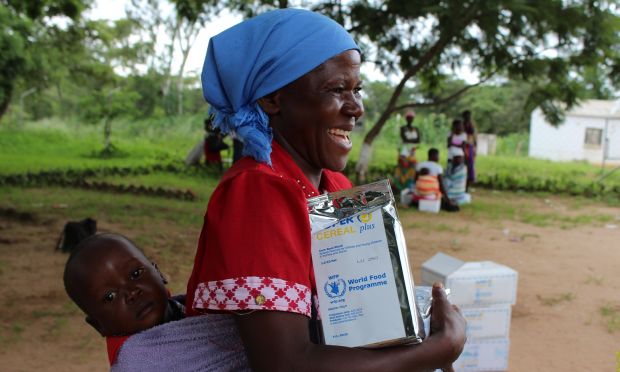 On Valentine's Day last 14 February, World Vision dedicated the day feeding more than 2000 children below the age of five who have moderate acute malnutrition in 19 wards of Mt Darwin district in Zimbabwe. The Moderate Acute Malnutrition Program provides supplementary feeding to the children with support from World Food Programme.
Working with various health institutions, the 19 tonnes of super cereal plus from the program aims to avert malnutrition. Super cereal plus is made from treated maize and de-hulled soya beans, sugar, dried skim milk, refined soya bean oil, vitamins and minerals.
The Zimbabwe Vulnerability Assessment Committee national nutrition survey reports that showed a rate of 5.1% acute malnutrition in the district. It indicated that more than1587 children have moderate acute malnutrition and a projected 3.2% with severe acute malnutrition. Food insecurity due to the El Nino induced drought is one of the underlying causes of malnutrition.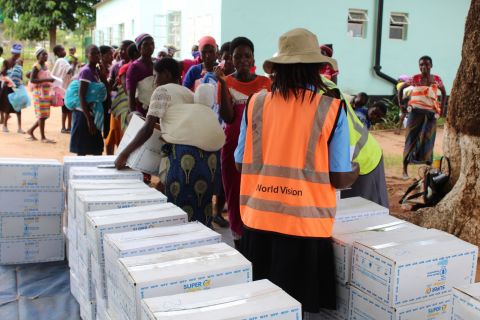 World Vision Commodities Officer Fanny Nyaunga who is overseeing the distribution of Super Cereal Plus observed that since the introduction of the program, more children were included. "When the program started on January 2017, we have 1587 children. On February, the figure increased to 2297. We expect this to rise as additional children are identified", Nyaunga said.
The targeted feeding programme is helping children overcome effects of undernourishment including their members to visit clinics or hospitals. However, Sophia (not her real name), a member of the group brought her daughter after she noticed the condition. She brought her daughter to Pachanza clinic for check-up. The mother of four requested not to be named, for fear of being sanctioned by her church but brought her daughter to the feeding program.
"After realising that my children are not growing well I decided to come and get this cereal for my daughter. The clinic staff measured her mid upper arm circumference (MUAC) and they said she must be given the cereal," Sophia said.
Pachanza Clinic, Ward Nutrition Coordinator, Ian Chaka said the targeted feeding program was very timely as malnutrition threatens the lives of children. The staff also do awareness campaigns teaching villagers on the effects of malnutrition to children and help eliminate it.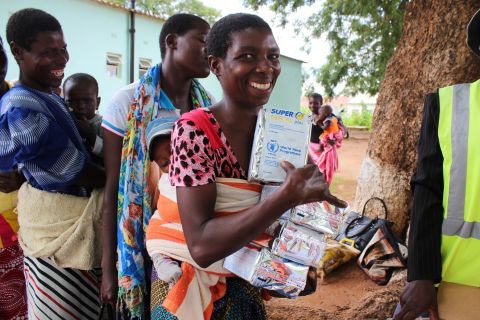 "We monitor children's growth when children come to the clinic. So far, we are seeing positive development. We have children whose health have improved so much. After we give them them super cereal plus, they come for review after two weeks and measured for improvement. Since the beginning of the program on January 2017, we have 25 out of the 75 enrolled children who have shown progress. Their MUAC (mid-upper arm circumference) have improved, most of them are above 13 centimetres as we speak now," Chaka said.
Chaka said they faced challenges in enrolling children from various religious sects. They have devised new strategies of conducting community health monitoring. To reach out to more children, they conduct check-ups in the villages. Some people have challenges of walking long distances to access a clinic.
At Dotito Government Rural Health Centre, lactating mothers also came in numbers to receive this super cereal plus. Paidamoyo Kambamura, a mother of two, said she has observed that her child was underweight so she went to the health centre. She said her family do not have enough nutritious food at home and are yet to recover from the effects of the drought. "Since I started giving my child this porridge made of the cereal, my child gained weight and looked healthy. She can now play like a normal child, something she rarely did before," she added.
Shupikai Gaurufu, the village health worker for Ward 9 said the program has taught them a number of lessons. They now know how to prepare nutritious porridge similar to super cereal plus using locally available resources.
"We were happy when the feeding program came. We have seen an improvement in children's weights. We also learned how to prepare it using locally grown crops. This is important to us. If the program ends, as village health workers, we will be able to teach mothers how to prepare nutritious food for their children," she said.