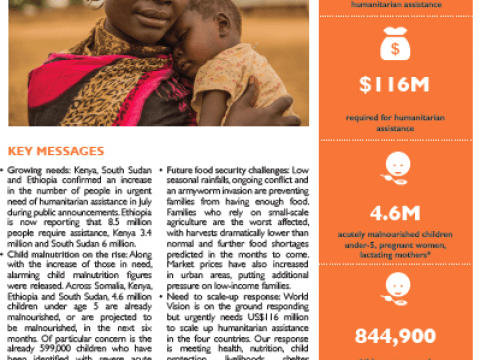 East Africa Hunger Crisis - Situation Report #9
Friday, August 25, 2017
World Vision's East Africa Hunger Crisis has reached more than 1.4 million people with food assistance. 
Still, due to overwhelming needs in Ethiopia, Somalia, South Sudan and Kenya, more needs to be done. We continue to draw attention to: 
Growing needs: Kenya, South Sudan and Ethiopia confirmed an increase in the number of people in urgent need of humanitarian assistance in July during public announcements. Ethiopia is now reporting that 8.5 million people require assistance, Kenya 3.4 million and South Sudan 6 million.


Child malnutrition on the rise: Along with the increase of those in need, alarming child malnutrition figures were released. Across Somalia, Kenya, Ethiopia and South Sudan, 4.6 million children under age 5 are already malnourished or are projected to be malnourished, in the next six months. Of particular concern is the already 599,000 children who have been identified with severe acute malnutrition and, if untreated, may be at risk of death.


Future food security challenges: Low seasonal rainfalls, ongoing conflict and an armyworm invasion are preventing families from having enough food. Families who rely on small-scale agriculture are the worst affected, with harvests dramatically lower than normal and further food shortages predicted in the months to come. Market prices have also increased in urban areas, putting additional pressure on low-income families.


Need to scale-up response: World Vision is on the ground responding but urgently needs US$116 million to scale up humanitarian assistance in the four countries. Our response is meeting health, nutrition, child protection, livelihoods, shelter, education and water and sanitation needs of the most vulnerable, but more needs to be done.
Number of those reached per sector, along with other response details, can be read by downloading the Situation Report.