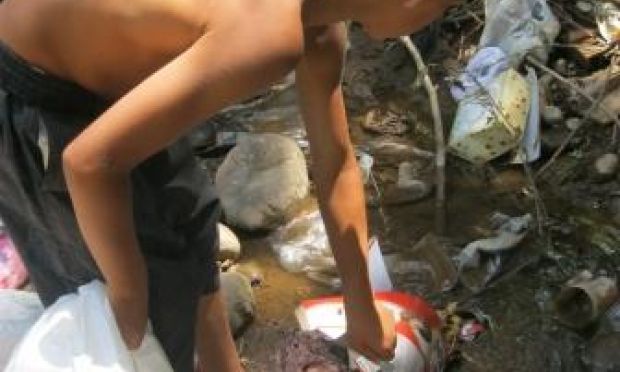 "Poverty, brothers, is a mouthful that's hard to swallow,
A bite that sticks in your throat and leaves you in sorrow,
When you watch the pale faces and rheumy eyes
Observing you like ghosts and holding out thin hands;
Behind you they lie, stretched out
Their whole lives through, until the moment of death…"
This poem was writtenin the 1930s by Migjeni, a very well-known Albanian writer. Today, nearlya century later, they still reflect reality in rural Albanian villages, like Librazhd.
The hidden poverty of Albania: While visiting Albania, many tourists are inspired by the beautiful views they see and by the untouched nature through which they walk. Many visitors assume that life in these areas is just as beautiful as the view. However, digging deeper into the rural people's lives, you find immediately that the opposite is true.
Albania is widely known as one of the poorest countries in Europe. The effects of the transition from a centralized economy in a rigid communist state and then to a free market economy in a democratic republic have weighed heavily on the people of Albania—particularly on its poor people. Despite the economy's robust growth in recent years, about 7.5 per centof the population lives in extreme poverty (UNDP MPI Index Report 2011/ CIA 2010) and struggle to put food on the table each day. Rural and mountainous areas are the poorest places in the country.
The cycle of poverty:
Klodi, 10, is a smart boy with a sweet smile and big dreams for his future. "My dream is to be a good doctor and help people with health problems," he says. "I also want to be a doctor to have money and a good life," he adds, revealing more of the motivation behind his dream.
Klodi's dreams are as far away and as hard to see as the stars on a cloudy and dark night. He knows what survival looks and feels like. At 10 years old, he is an experienced worker. He may dream about tomorrow, but he must first survive today.
Together withhissister, Irena, 9, they walk the streets and search the garbage bins of Albania from 9 p.m. until 2 a.m. and again from 6 a.m. to sunrise every day, looking for metal (iron, copper, aluminium, etc…) they can sell.This is the life their father lives and it is the legacy he has passed down to Klodi, Irena, and their three other siblings. They are part of a local Egyptian community.
Klodi and Irena live with their parents; Shpetim, 42, and, Flora, 31 and their sisters and brother: Enxhi,15;Kadife, 12, and Florenc, 3. The area where they live, on the outskirts of Librazhd, is populated by many Roma and Egyptian communities. Almost all of them survive by begging, working on the streets or selling old clothes in the markets.
"I have been looking for a job for so many years," says Shpetim, "but, is seems that a job does not exist for me." His search for steady work is complicated by health problems he has had since he was a child and his low level of education: he completed only four years of school.
Klodi's family shares a small room where seven people live. There is no toilet, inside. Their "living" room contains a few odd pieces of very old donated furniture: two small sofas, a chair and a cabinet. Their only stable income is the $30 per month they received as social assistance from the municipality.
Having enough food, secure shelter, good health, and access to education are the most basic needs--rights every child should enjoy—but these are well out of reach for Klodi and his siblings who must work to help their father buy food for their family every day.
Poverty, a cyclical problem
Once you get entangled in the cycle of poverty, it is hard to see anything that can break the chains of this cycle: extreme poverty pushes people into other social problems and the struggles snowball in size.
For Klodia, his siblings, as well as many other vulnerable children in Librazhd, and throughout Albania, accessing education and health services are among the effects of immediate poverty and the perpetuators of the cycle.
Enxhi, Klodia's sister, is 15 years old.While her peers have finished ninth grade of secondary education, she has just finished her fifth. Klodia is also behind. His peers are moving on to fifth grade, he has just finished the first grade. Likewise, his older sister, Kadife, 12, should be starting sixth grade.Instead, she will repeat third grade, again. All of these kids go to school mostly on paper. In reality, however, they rarely attend.
"I like school," says Enxhi."But I'm going to drop it because the other students in the school and the teachers tease us because we have another skin colour, are poor and don't have good clothes," says adds. While the former is likely true, another unsaid reason that she is dropping out is because of early marriage— another problem that the children, especially girls, living in poverty in Albania face. Her mother, Flora, was married at the age of 16, one year older than her daughter is now.
When the topic of early marriages was mentioned,Enxhi just bowed her head down and looked at her father who it seems already has plans for his elder daughter.
A heavy load
Living in poor conditions with inadequate food and being exposed to the extreme cold or heat during their long working long hourson the streets adds more weight to the chains to the poverty which these children must carry, making it harder for them to free themselves.
"All my children have had at least one surgery in their body," explain Shpetim, noting that they also suffer from pneumonia, because of insufficient living conditions. "Having different health problems in my family is the most difficultthing for me as a parent. When you see your child sick and cannot afford to go to the hospital, it is the most horrible place you can be as a parent," he adds, sharing that he owes more than $2,000 to different businesses or banks—money he has used to pay for medical care or urgent food needs. "I don't have anything to give back to pay the debts," he says."People cancome to my home to collect their debt but they don't have anything to take, except our souls."
The visibly invisible issue
After Kosovo, Albania is the youngest country in Europe, with more than 578,000 children under the age of 15, according to the 2011 census. According to the latest official study of INSTAT (National Child Labour Survey), 7.7% of children between the ages of 5 and 17 are exploited for hard labour and begging. These children are everywhere both day and night. Every pedestrian sees them, but they learn to look the other way.
These children face a greater risk of abuse, neglect and marginalisation and sexual abuse. By being in the street, they are also at risk of being sexually exploited, kidnapped and involved in prostitution or trafficking. The risks are very real and felt by children like Klodi. "Some people insult me and say 'jevk' (An offensive word for Roma people)," he says. "I'm afraid to go only with my sister because people might do something bad to her, because she is a girl," he adds.
A double-edged sword
The risks and effects of this life on children are not only physical, but emotional and psychological as well. Klodi and especially his sister Irena are extremely closed and don't speak much.
"It is very difficult to get an answer from Irena," says Bukurie, a World Vision community mobiliser. "She does not like to speak to anyone and people consider her mentally sick, but her parents don't know what exactly she has."
And, it is hard to help them. "It's really challenging to engage these children to participate in World Vision activities because they are not used to being with other children."
The best and the worst thing that they know is to find and collect cans. "Every morning when I open my eyes I know that I have to go to work and collect cans. This is the saddest thing and I wish that I didn't have to do it," says Klodi while he is collecting cans together with his sister under an old bridge in the middle of the garbage.
World Vision in Albania
Throughout Albania there are many children like Koldi and Irena and communities that have never experienced the love of God, and never heard a story of hope. Entire communities are bound by the chains of poverty, social problems, and 50 years of communist isolation. World Vision is a witness of the real poverty. Working in impoverished communities throughout Albania, we strive to give a voice to voiceless, to model stewardship, to seek justice and to champion hope.
In collaboration with other local partners, World Vision is working with and advocating on behalf of the most vulnerable children and their families, through sponsorship, education, health, and economic development, child protection and advocacy programs to address and break these chains of the cycle of poverty. World Vision provides direct support to some of these families including: education materials, food packets, health services, and, in some extreme cases, household facilities.
Through World Vision support, Irena has started to attend the school more regularly, while Klodi attends only occasionally. World Vision has supported Klodi and Irena with books and other Educational materials. This family has been supported with food packages, especially during the winter times, when is very difficult for families like this to put food in the table. Last winter World Vision gave to the family a heater, as Librazhd is one of the coldest areas of Albania with a very harsh winter. The ADP is working step by step with this family and others like this, as is very challenging to tear down the deep roots of the poverty.