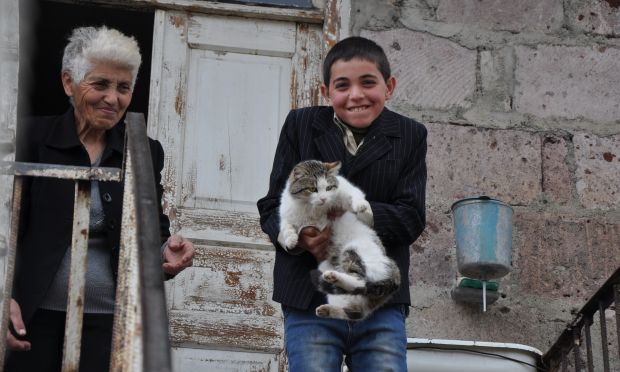 Rafik, 12, has been living separated from his family for the last seven years. He has developmental issues: his speech is not developed enough to be understood by others. He cannot walk freely, without father's support. And, Rafik is short on memory, the only thing he is good at are recognizing family members. Because of all these reasons, he has been living at a special school, in another city, during the week since he was 5 years old. He comes home only for the weekends. His father, Horizon, is always there to bring his son home.
Horizon's family lives in a small community near Stepanavan Town (located 139 km north of the capital Yerevan and 24 km north of the provincial centre, Vanadzor). Being so remote, the town of Stepanavan and all its communities are far from having the minimal chances of meeting people's basic needs. Horizon is one of the people, whose life is dedicated to meeting his family's needs. His family is his son Rafik, and two daughters Nvard, 16, and Anna, 18.
"I feel happy when Rafik learns something new. Even a small new thing is a huge victory for me and his father"
Nvard and Anna are students in Vanadzor Town. One of the girls is heading to become a doctor, motivated by her brother's circumstances. She believes with her training, she can cure her brother. Being away from home makes the girls miss their father and brother, but they have a 'mission' to complete. Until their return, their grandmother, Anush, who is already 70, is taking care of the house. Anush used to be a teacher at the local school, and although she is retired, she uses her knowledge and experience to patiently teach Rafik on the weekends.
"I feel happy when Rafik learns something new. I can see his difficulties and fears when overcoming new barriers, but every time he learns [a] new thing, even a small one, it is a huge victory for me and his father," she shares.
Rafik's father, Horizon, works as a watcher in a Hydrometeorology station near Stepanavan town. His work is hard as he is responsible for the security of the huge station day and night. He works 24-hour shifts without sleeping.
He worries about his daughters far from the home and about Rafik, who needs special care and who has required so much energy and efforts. His salary of about 56.000 Armenian drams ($135) is never enough to cover all his family's needs. The annual fee for the daughters' studies alone is over 170.000 Armenian drams ($410). Add to that the costs of taking his son to the special school and it is easy to see that his hard-earned money vanishes quickly each month.
"I have borrowed money from all my friends and relatives, though it is not enough for us to survive properly. In summers it is somehow easier. But, winters, especially this winter was a hard period for us. I had no proper clothes for myself or my children. My workplace is situated on the hill and its open air, to reach there, I need good boots and warm clothing, because of their lack I caught cold many times and my son was infected several times," remembers Horizon.
"Because of lack of warm boots I caught cold many times and my son was infected several times"
Poverty for Horizon and his family is a vicious cycle. Without warm clothes, they are more vulnerable to getting sick. Their poverty prevents them from purchasing medicines when they are ill. And, when he is sick, he is not able to earn money—making their situation even worse.
The new clothes and snow boots were a great excitement for Rafik, who could hardly say thank you under his huge smile. He was trying to wear the boots, but couldn't. His father helped him put them on and tried on the bigger size himself.
"He says, 'I'm happy to have new warm boots'," interprets Horizon.
Grandmother Anush is also happy for the safety and warmness of her son and grandson. "The gifts received from World Vision are always on time. I pray to God for all the people who help us," smiles Anush.
*Rafik is a sponsored child.