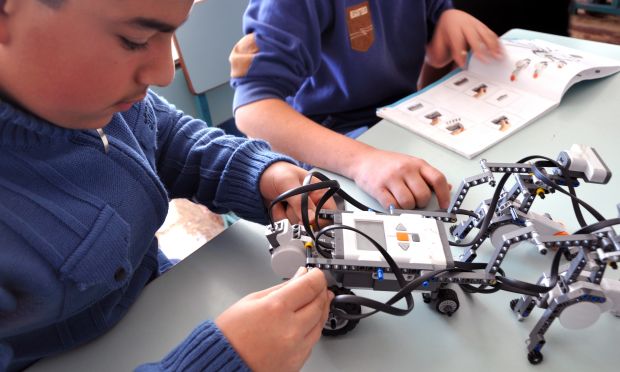 Armenia - With support from World Vision, a Youth Robotics Club was opened in one of the schools in Kapan Town in southeast of Armenia, promoting IT skills among the schoolchildren, creating employable skills and future employment opportunities for those who want to help build their country.
The youth robotics club meets in a sunny room. The participants are surrounded by computers and posters with information about robot building and software writing. The first impression of the activities may lead visitors to think the club is chaotic; there are boxes with Lego parts on the floor, and manuals open on the tables, which together with the chairs have been pushed to the corner of the room to create an empty space where the robots can be tested.
For the young participants this chaos represents the first rung on ladder to future success. Through learning basic concepts and developing their software development skills students are not only mastering basic computer skills but going one step beyond to developing their knowledge of computer programming.
Computer science and industrial engineering studies have become very popular at universities fielding Armenia.
Computer science and industrial engineering studies have become very popular at universities fielding Armenia. In a country with historically high rates of unemployment, young computer programmers are among the most employed and with some of the highest starting salaries. Many young people living in rural areas, however, are being left behind as programmes and training centres are located primarily in the country's capital, Yerevan.
To help level the playing field for children outside the city, World Vision aims to build the capacity and perk the interest of high school students through youth robotics clubs; providing those interested the basic skills they would need to be accepted into university level programmes later on, should they choose that path. At the very least, the programme provides them an alternative path to youth unemployment and migration, some of the most frequently selected futures when students finish high school.
The first Youth Robotics Club World Vision opened is located in one of the schools in Kapan Town, in the southeast Armenia. The School already had a computer lab, accessible for the students and teachers to learn new techniques. The four multi-part packages of LEGO-based Robot construction tools and parts were donated to the school by World Vision Armenia to create a more efficient and stimulating environment for the children study in. This club uses the motivational effects of robotics to inspire students to explore science and technology. Here, students become young engineers and learn how robots work in a fun and highly-energized environment.
"The basic skills of creativity, presentation and programming skills they learn here are a key for their future success," Zarine.
"Not every child has to become a robotic engineer," says Zarine Avetyan, World Vision Armenia's Kapan Area Development Program Specialist. "Still, the basic skills of creativity, presentation and programming skills they learn here are a key for their future success. They also achieve skills for critical thinking, problem solving and a great amount of teamwork – skills which are essential and prepare them for the working world and life," she added.
The idea behind the program is to increase the knowledge, skills and abilities of children and youth living in these remote areas, so that they can easily enter specialized programmes in the future at high colleges and universities.
World Vision's training began with the teachers, who first learned the methodology of creating programmes and constructing simple robots. Only then did they start sharing their knowledge with the students. About 30 students from two schools have already designed and built some simple robots, which can follow basic instructions: for example, moving along a black line or changing directions when a specific sound is created.
"This is a great opportunity for the students of our school to learn new things and develop their skills in robot construction," says Robotics Club Trainer Mrs. Grigoryan, who was recently trained by National Instruments Company. "Of course, currently they only can connect basic parts and develop simple guidelines. But, with time, we will have clever minds creating something new," she added.
Recently, the Kapan Robotics Club students took their simple robots to the robot-expo held In Yerevan, where all the famous and experienced IT companies and organizations were present and shared their own experiences and tools on developing basic and multifunctional robots.
"One day I will design a home-robot, which will help me at home in everything," Narek.
"I am working now on a small robot project, which moves by the sound. Whenever the system hears clapping or any other sound, it turns the wheels and moves in that direction," shares Narek, 14, who dreams of becoming a programmer. "I hope that one day I will design a home-robot, which will help me at home in everything," adds Narek. The only machine in Narek's house is the washing-machine. "I would like my parents to spend more time with us, educating, entertaining, or just communicating," he said. "But now, they are cleaning, washing, drying, sweeping, cooking, etc…"
Since 2012, World Vision Armenia has been working to bring knowledge of robotics to the youth in communities throughout Armenia with the goal of helping youth from rural regions of the country develop their abilities. In recent past months World Vision has expanded its Youth Robotics Clubs to five schools in Alaverdi, Gyumri, Sisian, Talin and Kapan towns. Armed with different robotics programmes and equipment, these clubs are set to provide schoolchildren with basic knowledge of robotics, as well as actual practice in building robots that are programmed to carry out limited tasks.
The Youth Robotics Clubs and similar projects can play a role in building the Information Technologies potential in the rural regions of Armenia giving young people the opportunity to be involved in web design, programming, animation, and robotics engineering and offering them a possible path for a successful future in Armenia.