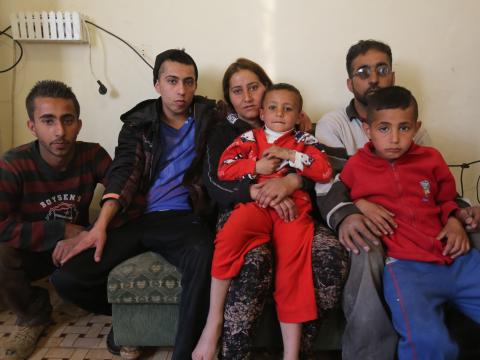 'For the first time, I bought enough [food] for everyone!'
Saturday, April 30, 2016
In a secluded area of Lebanon's central Bekaa, one Lebanese father has been struggling to make ends meet for his family of seven.
Yehya, 40, makes a living selling plastics and rubbish. His daily income varies between USD 3 and USD 10 (5,000 LBP and 15,000 LBP) per day, but earning the latter amount is rare. After spending most of his earnings on food (bread, sugar, salt and sometimes meat), there's little left for electricity, transportation or medical expenses. His 18-year-old son, Ali, also took up casual work as a painter to help alleviate his father's burden. But, even with the added income, there still wasn't enough money to provide for the family.
"Sometimes, we'd sleep without getting dinner," says Yehya. "We would try to borrow bread from relatives and neighbours or send the kids to them. When that didn't work, we'd just give them our portions. We as parents can handle [not eating], but not the kids."
On top of food, Yehya's eyesight was also deteriorating drastically and he needed a pair of glasses, a "luxury" he can't afford. "Life is hard," says Maamar, Yehya's wife. "Lebanon is expensive. I used to ask my neighbours for medicines. I feel bad to ask, but I'm obliged to do so as otherwise my child would get sick."
For Yehra, the scariest part is the uncertainty of not knowing whether the pharmacy or the supermarket will allow him to take out the next ones on credit. He shakes his head helplessly. "Unfortunately, there will be times where we just wouldn't able to bring the kids to the hospital or put food on the table," he says. 
To make things worse, the house that has been passed down by his grandfather is slowly falling apart. Over the years, the sub-standard living conditions with inadequate toilets and kitchens and an unstable flimsy front door have resulted in break-ins and his children getting ill. "Look at us, we have been married for 20 years," says Yehra. "My wife is still washing dishes on the ground. There's just nothing there. I blame myself for not being able to support the needs of my family."
Last August, World Vision provided the family cash assistance of USD 174 per month from Global Affairs Canada (GAC). The assistance lasted for eight months and it was aimed to provide the most vulnerable Lebanese households to better meet their basic needs.
"I could still remember the day I got the money - I bought lots of things - most of them food. I was never able to buy enough for the family. But, [on this day] for the first time, I bought enough [food] for everyone! I didn't even need to give my portion to the children," Yehra says.  "The new cash gave us a new life," he continued. "I felt empowered - whenever someone needed something, I no longer had to say 'we don't have the money' or 'I can't buy this for you.'"
Aside from food, Yehya also spent the cash on a new front door as well as some clothes for the children. The best part was that the cash gave Yehya a huge breathing space to handle the pile of medical bills. Not only was he able to pay off the family's pharmacy debt, he was also able to purchase a pair of glasses for his eyesight.
"After the assistance because I was able to pay off my debt, I felt that no one was going to break down the door and ask for money," he continues. "Two years ago, someone used to come by the house and constantly ask me to repay the debt. For once, I felt that I could finally sleep in peace."
Unfortunately, the family stopped receiving the GAC grant March 2016 as the cycle ended.
"Assistance was good for us. Now, what are we going to do? For now, things will get worse. There won't be enough food on the table. There is no future plan. We already had to skip Mohammed's recent doctor's check-up because there was no way we could afford the fee of USD 18 (40,000 LBP)," adds Yehya. "If we stay like this, I won't be able to continue to send my kids to school and they'll stay at home [because transportation is too costly]."
"I feel really bad," whispers Ali. "I still can't work due to my ear infection. I blame myself for not doing more. I wish I could find work and support my father."
What will the future hold for the family? Thanks to Global Affairs Canada and its cash assistance, they've helped 170 Lebanese households like Yehra's. This assistance has empowered Yehya and made a huge difference in alleviating his burden. As it's now ended, it's uncertain how the family will now cope.