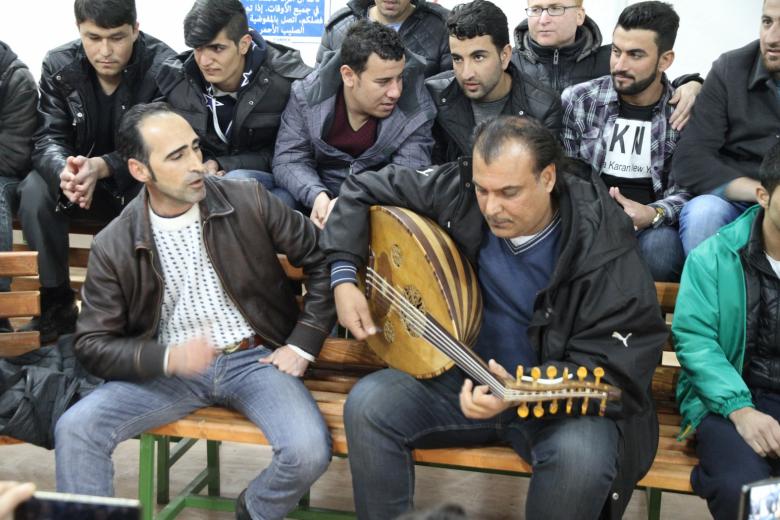 "Music gives soul to the universe and wings to the mind"
Thursday, March 31, 2016
Plato said that "music is a moral law. It gives soul to the universe, wings to the mind, flight to the imagination, and charm and gaiety to life and to everything". The need for gaiety in life and a peace of mind is growing in Preševo Center for Refugees where close to 700 people have been stranded and in limbo for nearly a month.
World Vision staff working in the Center was able to identify a few musicians from Iraq who were willing to take part in a party, initiated by World Vision. The party, which started small, turned into a big one with close to 150 people participating.
"This was incredible and utterly unexpected," says Spasoje, a Protections Officer with World Vision. "It was open to all at the camp, with the specific intent to animate the ones we had identified in previous visits as the most vulnerable."
"The refugees were happy," said Aleksandra, a psychologist also working with World Vision who helped encourage refugees to join the party. "They were enjoying the 'concert', smiling, laughing, clapping, singing and supporting the singers with the big dance," she adds.
The main attraction was a lead singer Dia Edwan from Iraq who played a traditional instrument called the oud, a harbinger of a guitar. "I liked that you have organized this," said Dia. "People felt relaxed and were stress-free for the moment," he added.
"The most important thing for me here in this centre is my relationship with you [World Vision staff]," said Dia Edwan. "You are real humanitarians!" Dia's journey has taken him 38 days so far and has brought him from Iraq through Turkey, Greece, Macedonia and Serbia. He was not allowed to cross the Croatian border even though he had all the necessary papers.
After two hours of dancing and singing, all the participants left with a big smile on their faces. They were happy, satisfied and enthusiastic because for a moment they felt alive again.
Currently, no one knows what will happen to the refugees stranded in Preševo or in Šid (a town in northern Serbia where World Vision has also been supporting the needs of refugees along with other organisations at the One Stop Center for Refugees). World Vision teams continue operating in all areas where there is need and is altering its response to meet the current needs of refugees such as supporting sanitation facilities or providing hot meals.
In situations like these, the creativity of the World Vision field staff is the one thing that helps refugees forget about their problems and, at least for a moment, bringing a smile to their faces. The ability to bring joy to those in desperate conditions is the most rewarding part of the work for World Vision staff.

This programme is funded by European Community Humanitarian Office (ECHO).