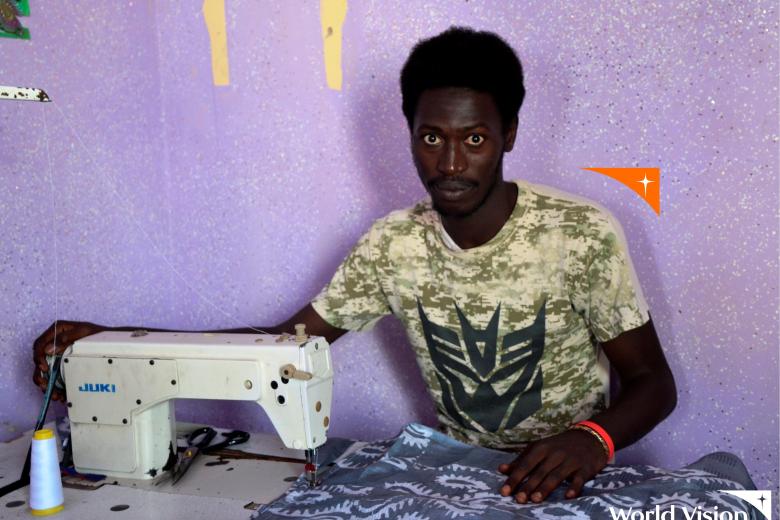 Adama, 24 years old, tailor and former sponsored child
Monday, May 28, 2018
My name is Adama, I am 24 years and I am a tailor since 2015.
I am the happy beneficiary of a sewing training in 2015 funded by World Vision Mauritania through its Nouakchott AP in in the framework of a project for the insertion of young people in Sebkha. 
I began to benefit from World Vision's programs when I was 4 years old, when I enrolled to their daycare community development center. I have also benefited from school supplies during my years of study in Sebkha schools.
My family, like many others in my neighborhood, also have received mosquito nets  during seasonal distribution campaign. 
In 2015, World Vision financed my training in sewing in the framework of a project for the integration of young people of the district. In the beginning, I had many biases concerning this profession, but I realized very quickly that it was an exciting and fun job, my creativity could be express without boundaries and this could allow me to feed my family. 
Today, I am working with my brother in his tailor shop and I get to earn my living with dignity. The little that I get with this activity, I use to ensure my expenses, those of my family and to meet their daily needs. 
I hope that World Vision will help us finance sewing materials, because with the other young people of our AGR named Kawral We plan to have our own workshop and this will help me to have more resources and to reinvest in future projects.
For more support to Adama, the ADP of Sebkha filed a demand for the purchase of sewing machines for his AGR named "Kawral ".