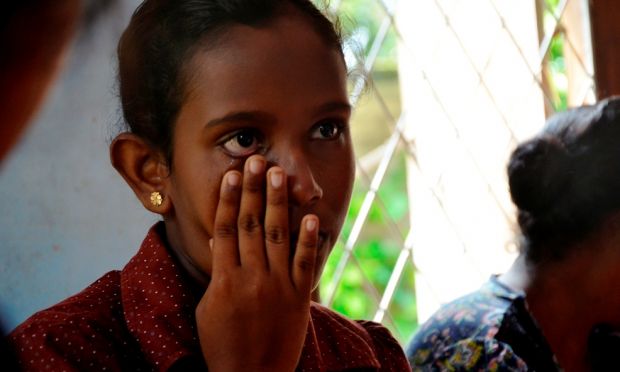 Ishara (12) has never experienced anything like this in her life. The last time her house was flooded was 14 years ago. The waters have receded leaving everything caked in thick smelly mud.
Ishara helps her parents to scrape off mud where possible. The floods have destroyed the pipelines and there's no water to clean. She takes what she can, down to the river for washing.
Two things bother the young girl. She's worried her baby sister (10 months) would fall sick because of the unclean surroundings. She's worried she won't be able to go to school because her uniform and her school books got destroyed in the water.
"It rained the whole day and the day before," she begins to describe her experience of the disaster, "But I still went for my Math class in the afternoon. When I was returning home around 5:00 p.m., the river was filling up the road."
"My mother was at home with my baby sister and I asked her what to do. She said we would have to leave the house."
Ishara and her family live close to the Ginganga River in Neluwa, South of Sri Lanka. Their community works in low grown tea plantation estates. Her father works as a helper in a lorry that collects tea leaves from the tea estates and transports them to a factory.
By 6:00 p.m. the road was completely submerged and Ishara packed a few clothes for her, her sister and her parents and grabbed her some of her school books.
"I didn't have enough bags to carry them all so I took the important ones," she says, "We went to a house on a higher ground, but after sometime water reached there, then we climbed higher and water reached there too. We still climbed higher to my uncle's house. The water didn't reach there."
36 hours of rain took only six hours to drown her village. But the waters took two days to recede.
"When it began to go down, I took my mother and went to see our house. Closer to our house the water was still up to our hips. I saw from a distance that the house was still under water. I thought I'd faint. The current was still strong there and it wasn't safe, so we turned back. I didn't realise but our feet had already got cut by broken glass carried by the water," Ishara says.
When they were finally able to return home, the floods had left layer of mud one foot high and debris everywhere.
"The clothes, our beds, whatever we couldn't take with us were gone and whatever the waters left, were caked in smelly mud," she says, " my aunt gave me some of her clothes for the moment."
"All my school books were gone and my school uniform and the school shoes I recently bought," tears begin to roll down her cheeks, "I want to go back to school but I don't have my uniforms or books anymore," tears keep rolling down her cheeks.
She knows it's difficult for her father to provide for her. There's a lot he would need to do recover what they lost in the floods.
"I hope this never happens again to anybody," Ishara says
Although the waters went down after 48 hours, it would take longer for families like Ishara's to recover and rebuild their lives.
Southwest monsoon rains attacked Sri Lanka's Western, Southern, Sabaragamuwa and Central Provinces resulting in landslides and flooding in many areas. 188 have been killed and 99 people remain missing due to the prevailing bad weather. Over 575,000 people are affected and 76,000 are displaced.
World Vision currently has an Area Development Programme in Neluwa. World Vision office was badly damaged in the floods. The team in Neluwa is currently assessing the needs and World Vision would soon commence responding to the affected population. The response would prioritise distributuion of urgently needed non-food-items, hygiene packs and essential medicines. The long term recovery response would focus on WASH and economic recovery.