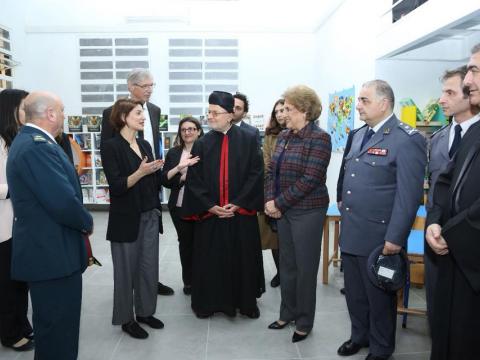 The boys behind bars and their new books
Tuesday, June 5, 2018
At the Roumieh Juvenile Detention Centre, over 180 teenagers with over 180 stories of deprivation are imprisoned. The stories when told vary, but they are very much similar; poverty, broken homes, and hopelessness. 55% of the juveniles are Syrian teenage refugees whose hearts stopped foreseeing a positive future. The others are young Lebanese boys who come from poor and forgotten areas in Lebanon. Life behind bars in prison Roumieh is not a joyful ride, but for some of the prisoners, jail is now home.
They often receive different rehabilitation programmes which mainly revolved around giving the children social support, psychological support, vocational training, and literacy classes. The aim is to prepare them to cope again with the outside world. "It hurts a lot to hear them admit that they are afraid to go out. They usually believe that they are not welcomed back in their communities," said Rita Deaybess, a social worker who is in charge of the Juvenile center. "When they feel confident and all set to leave – this is when we succeed." However, the children require a lot of support to overcome questions around their future such as "what will my future boss think of me when he knows I spent jail time?, does my family still love me because of what I've done?, will I ever gain back my friends' respect", and most importantly – "what will I do when I am released?"
For this, the General Chaplaincy of Prisons, through its representative Father Saghbini, has been closely following up on the children in very close collaboration with the Ministry of Justice, Ministry of Social Affairs, and the General security - in a programme that allows the Youth in prison to choose the classes that are most appealing to them and their goals. Father Saghbini, with his modest personality, has gained the trust of children.
Father Saghbini divides his role as the chaplaincy representative in the prison. "The "human" side of it is a simple hello to children who are quite vulnerable. They are lonely, forgotten, and scared. A simple hello changes everything – from their attitude to their perspective," F. Saghbini assures. He recalls meeting a 16-year-old boy in prison. He asked him once about his family, his background, the reason he got in jail – many basic questions. Since that day, all F. Saghbini said to him was Hello every morning. On the day of the boy's release, he passed by the priest's office to tell him that he was leaving. "I recall he told me "do you know why I chose to tell you" and I answered with a no. He said, "Because you care about me. You greeted me every morning and asked how I was doing." "My point is some of these children have no one, but us – no one to love and care for them, and no one to get them the small things they might need," recalled Father Saghbini. As a lawyer, Father Saghbini provides them with legal support – especially for children whose parents cannot afford a legal representative themselves and bail or are indifferent of their children.  Providing religious guidance for the Christian children inside jail is part of the chaplaincy's role. Father Saghbini often advises the children to stay on track in their Christian lifestyle and reminds them that God never leaves anyone.
Both Father Saghbini and Rita emphasize on the challenges that face their work inside the juvenile detention center; from limited funding to prison understaffing and security restrictions. 
World Vision through its Church Refugee Emergency Fund (CREF), in parnertship with the chaplaincy, took the initiative of rehabilitating the prison library and turned it into a calm space where children can enjoy a colorful background away from the grayness they were used to.
"These children are probably the most vulnerable children in the Lebanese community," repeats Father Saghbini. "They are in pain and in need – in need of clothes, of medications, of treatment for scabies, in need to know that they are loved and cared about!" The chaplaincy highlighted the several necessities the juveniles lacked. "The children deserve a decent place to gather and read a book like any normal child!" explained Father Saghbini. "The library gave them a feeling of normalcy which helped them a great deal."
"Back in 2006, I visited the prison as part of a university research. Since then the image of the children stuck with me. When the CREF opportunity came, I saw it as a chance to do something and ameliorate the lives of these young boys. However I did not know what exactly should be done," explained the CREF project manager at World Vision Lebanon Zeina Zouein. She, then, initiated the discussions with the Chaplaincy of Prisons and the Internal Security Forces social worker. Altogether they identified the need for the library inside the prison.
As the project progressed, the initiative was shared with the Lebanese First Lady Mrs. Nadia Michel Aoun.  Being a mother and grandmother herself, the first lady was very compassionate about children, specifically those who are in prison. Under her patronage, the library was inaugurated on the National Child Day. The First Lady visited the prison and emphasized, during her tour at the center, on the need to provide the juveniles with the support they need to cope well with the outside world once they are released.
The books varied. Some were about languages and linguistics, geography, biographies, and entertainment. Specialized books around agriculture and cooking were also on the library shelves. On their first visit to the library, the juveniles were very happy about the colorful environment. Their second reaction was hurrying to grab a book or two to read," said Rita.
 Even those who are unable to read and write skimmed through the books with the most images. Those colorful walls succeeded in getting their minds off their realities and futures.