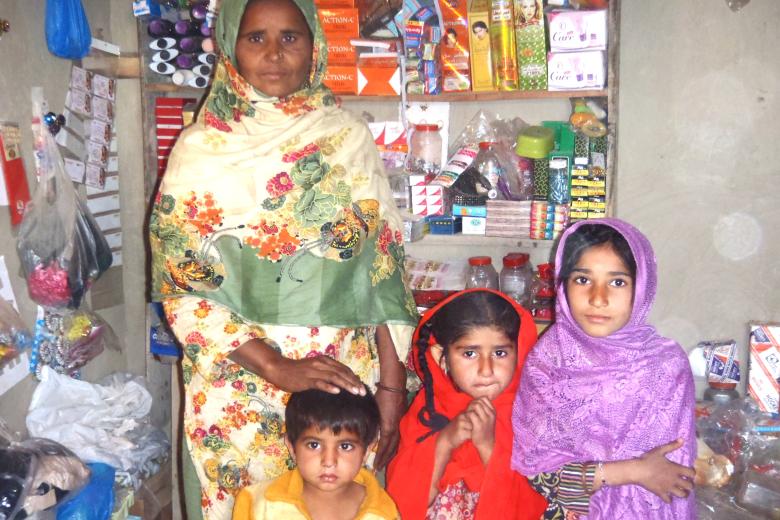 Cash voucher gets Shamim back on her feet
Monday, June 11, 2012
When people brought home her husband's dead body, Shamim lost her senses due to overwhelming grief. She was also afraid of how she would cope with the trauma in a male dominant society and how she would take care of her children. Her little son Ahmad quizzed her again and again, saying, "Why my father didn't hug me today?"
Shamim, 37, lives in Saarh Wala village of Muzaffargarh district, with one son and five daughters. Her husband Imam Bukhsh was a driver who earned Rs.8000 (US $89) per month.
 Imam Bukhsh was looking after his family with affection and commitment. Being a driver, he always used to go to work early in the morning to have more chances of earning. He always wished for his children to be educated as he didn't want his only son Ahmad Hassan to follow into his profession.
Illiterate, living below the poverty line, where people survive living from hand to mouth with next to nothing, Imam had a dream to do something different for his only son.
July 12, 2011 changed Shamim's life forever, when she received the news of her husband's tragic death. He was driving on the motorway; his mini truck suddenly collided with a trailer. The accident claimed his life along with his three colleagues.
Shamim says, "Whenever I recall the scenes, I can't hold shedding the tears as each and every one rushed to my house to console with me."
In 2010, the entire Muzaffargarh district was severely affected by heavy floods causing damage on a vast scale, bringing untold suffering and hard times for these hapless people.
Unfortunately, Shamim's home was destroyed completely. Tragically, her 3-month-old son died of pneumonia while they were all living in a tent. Contaminated water was cause of his death.
After her husband's death, Shamim was extremely perturbed as she didn't know how to take care of her family. She decided to do something on her own. She started giving lessons on the Holy Quran to the children of her community.
Meanwhile, World Vision (WV) started distributing cash vouchers to help such deserving families, through the "Integrated WASH & early recovery assistance for flood affected areas" project. Rs. 10,000 (US $111.6) was given to each family. So far 200 families have benefited through this project to help poor families, aimed at achieving the first Millennium Development Goal (to eradicate extreme poverty).
This project has been designed to assist the vulnerable families that were severely affected by the 2010 floods and whose bread earners have been unable to feed them.
According to Zeeshan Ahmad, Agriculture Officer at World Vision Muzaffargarh office, "World Vision has made very clear criteria for the selection of beneficiaries. Poor of the poorest families have been selected for this project. We always give priority to widows and disabled who are struggling for their children's betterment."
"Each participant in Cash Voucher Distribution project must have a Voucher Card with him. WVP issue these cards to beneficiaries for this specific activity. Without having this card, no one will be given the cash," says Zeeshan.
Besides the selection criteria, village committees have also been involved to select the most deserving families in the area.
Shamim received Rs. 10,000 (US $111.60) by cash voucher from World Vision and she has invested in a small shop in her home.
Shamim says, "I was in stress how I manage the household affairs and bring up my children especially my son Ahmad Hassan. But when I received cash amount from World Vision, I felt a sense of satisfaction."
She is running a grocery store, earning Rs. 200 to 500 (US $2.20 to 5.50) daily; this is enough to fulfill the basic needs of her family.
"I always wish my son to be a teacher and now this can be possible. Now I am also saving some amount for dowry of my daughter whose marriage is planned in coming month," Shamim adds.
Prior to the cash distribution, World Vision constructed drains in Shamim's home and a latrine in her area for better cleanliness. World Vision WASH (Water, Sanitation and Hygiene) team also has organized awareness sessions on health and hygiene to improve hygienic conditions of the communities.
Shamim's daughter Nimra says, "We had never used any soap to wash our hands but after awareness session, we regularly use soap as we all are aware of its importance."
The marriage of Shamim's daughter is high priority task for her as it has been postponed time and again due to lack of resources.
Shamim says, "World Vision has provided me source of income to look after my family. World Vision is a beacon of hope in my life. God will give its reward."
The community is showing a very positive response after cash distribution. The living standard is improving day by day.
World Vision is aiming to provide maximum support to flood affected families through various projects. Currently World Vision is assisting through various beneficiary schemes such as Health, Food, WASH, Livelihood, Child Protection, Education and Advocacy.