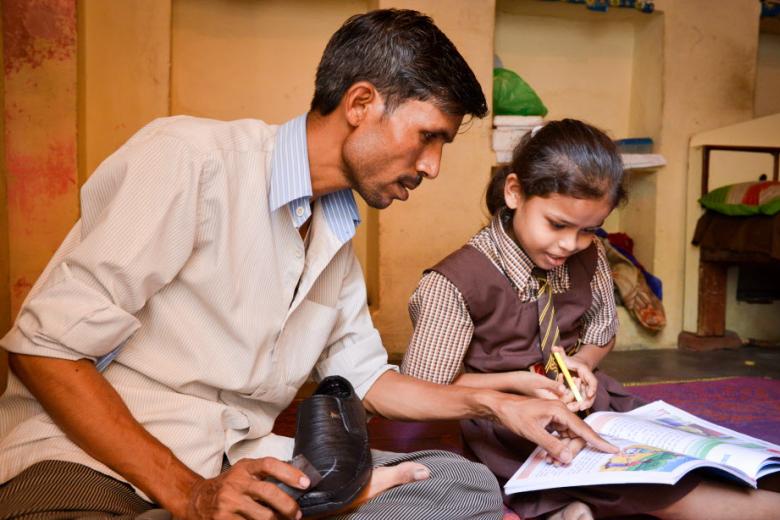 Changing attitudes about girls
Thursday, February 18, 2016
Mangay Lal knows all too well the flawed conditioning of the mind-set toward girls and women.
"We have been made to believe by society, that a girl is someone else's property and will marry and ultimately go to someone else's house, so why should we invest in educating her, we don't benefit from it?" says Mangay Lal, a Men Care Group member, glancing at his daughter playing in a corner.
Deeply rooted in societal norms, a girl's fate is predetermined, as "Paraya Dhan" (someone else's property).
Members of the World Vision supported Men Care Group learn about how gender inequality impacts relationships and about gender-based violence. They are encouraged to take an active part alongside their wives, mothers and sisters in caring for the home. The group progressively supports its members to become empathetic and caregiving.
"Women's safety is a deep rooted problem embedded in their patriarchal mould. It is necessary to bring in men's focus to address gender-based violence. It is important to facilitate the provision of a safe and constructive space for men to reflect on and redefine what it means to be men and fathers to ensure the safety of women and girl children," says Karoline Davis, Head of Gender and Development, World Vision India.
"I never saw myself as having a friend type relationship with my children, especially my daughter."
Participation in the Men Care Group sparked a chain reaction of transformation in Mangay and his fellow members.
Mangay Lal's daughter runs towards him, "It's ice cream time, daddy!"
Mahima, age 11, eagerly unwraps the vanilla-chocolate treat, slurping the ice cream cone before it melts in the blistering heat of the summer.
In a flash of mischief, she tilts her ice cream, smearing her father's face with melted vanilla. Reciprocating his daughter's gesture Mangay dabs a dot of vanilla on Mahima's nose. Both burst into fits of laughter.
"I love my dad. He listens to me and brings me treats. He is my friend," says Mahima.
"I never saw myself as having a friend type relationship with my children, especially my daughter. There was no concept of taking the children out for leisure. No one did it in our community. With regard to caring for our children, earlier there was no desire in me to bring about change. I never considered about what they were eating, wearing or playing. I used to take pride in my role as a man. I work and get the money into the house and that's all. The rest was not my concern. But being part of the World Vision Men Care Group has opened my eyes."
"I learned what the right thing do and what is not. The right thing it to love your family, your children, motivate the children to move forward in life and not to succumb to societal pressure and make wrong decisions that would be detrimental," says Mangay Lal.