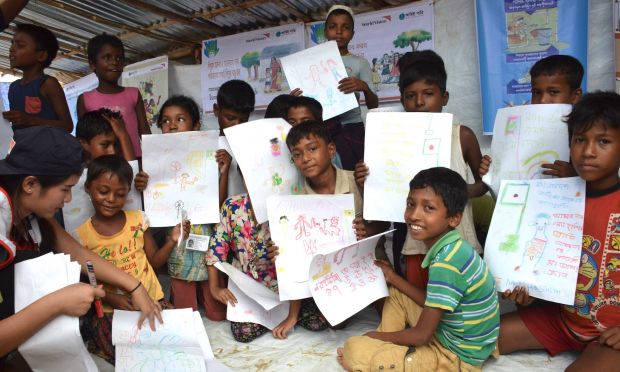 World Vision is setting up Child Friendly Spaces (CFS) at the refugee camps in Bangladesh to provide them safe spaces to draw, play, interact and heal after escaping the violence in Myanmar.
"Together with my parents and three siblings, it took us eight days to reach the camps. I was too tired and hungry. We live in tents but it's too hot and crowded. I miss playing with my friends," says Shahina, 12 years old.
Shahina drew a school because she misses going to school in Myanmar. "My favourite subject is reading the alphabets," she added.
Almost three months since the recent violence erupted across Rakhine State, Myanmar, on late August, over 600,000 people have poured across the border between Myanmar and Bangladesh. Almost 60 per cent of the refugees are children. Many have become separated from their families or fled on their own, and have suffered tremendous loss.
"I lost my parents. I miss them so much. I live in a tent my relatives now," says 12-year-old Shokfe, who preferred not to show his drawing.
World Vision continues to collaborate with the government, other agencies and the refugees themselves to ensure that child protection mechanisms are in placed in the camps.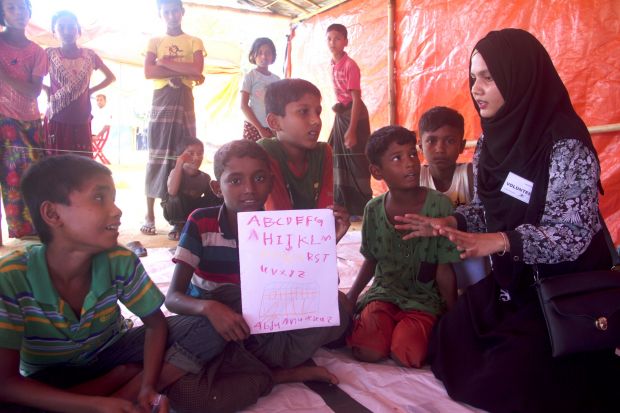 Apart from other basic necessities, children's vulnerability on child protection issues like child trafficking is higher in the camps. At the camps, there have been reports of missing children, who are feared victims of child trafficking.
"I spoke to parents and witnessed their overwhelming sadness and fears at not being able to protect their kids. Beside this proper security is huge issue for the huge population in the camps," says Darren D' Costa, World Vision Child Protection Officer.
World Vision has started setting up the Child Friendly Spaces (CFS) at the refugee camps, targeting at least 4,000 refugee children. Local volunteers are facilitating the CFS through drawing, singing, and teaching children on basic hygiene and sanitation. The staffs on the ground continue to collaborate with the government and partner agencies to strengthen child protection mechanisms.
"With me at the center, I drew a flower, a star, and two flags: Myanmar and Bangladesh," says Jayour, 10, at World Vision Child Friendly Space at Balukhali refugee camp in Bangladesh. "I feel safer here but I miss my home," he added.
World Vision targets to respond to the immediate needs of the refugees who fled violence in Myanmar though food, shelter, water hygiene and sanitation, health and nutrition, and child protection.