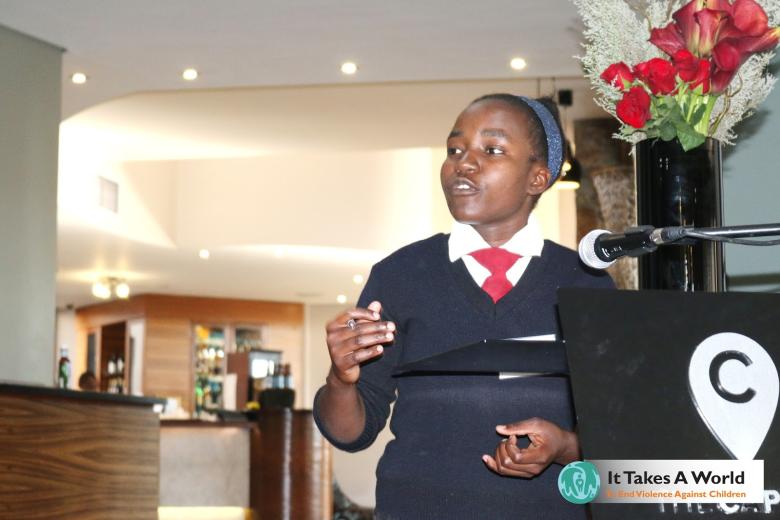 Children speak out at the launch of "It takes the world"
Wednesday, September 20, 2017
She is 17 years old but already making her voice heard by the world. The Zambian children's rights activist, Margaret is working towards an ideal world for all children.
Margaret conducts community sensatization meetings where she talks about children's rights. The elders, including the chief, participate. This raises community awareness of children's rights. It also empowers the community to know about basic universal rights.
Working with other young members, started a radio programme on Zambian Sky FM Radio that highlighted some violations of their rights in the homes and community. The live programmes led the traditional leader - Chieftainess her Royal Highness Choongo, to champion the campaign to end child marriage. Since then there has been commitment from various partners that include all the key government ministries and institutions including the police and World Vision Zambia to ending child marriage.
 "It is my belief that education is very important if you want to become someone in life. We also talk about early marriages. In my community two girls were married off and after hearing our radio program about this they came on board and talked about it. One of the girls is now going back to school and World Vision Zambia is funding her," the young journalist said.
She told the story of how some parents valued their livestock more than their children. She said one of her community members was found dead and another was found after three days - hiding because he was scared of his parents because one of the cows they had been herding was missing.
 "I urge all governments to unite to fight all the wrongs in the communities. We need more information on child protection and information should be translated to enable more people to understand," she said.
Malawi's Memory Kapinama (18) is a survivor of child/forced marriage by her parents.
Early marriage in Malawi had become a norm and in Memory Kapinama's case she knew that one day she would be married off. And when it happened she just accepted it.
She was married off in 2014 but after the Senior Chief's intervention she went back to school. She successfully completed school and has been admitted to the University of Malawi to further her studies. With her experience she is now an agent of change.
"I use my experience to inspire girls and now I have girls looking forward to a brighter future. I am also now a role model in my area," she said.
For both girls the future is now brighter.